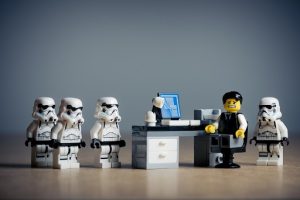 Open space workplaces have been a popular trend in the business decor. All around the world, offices have considered the best way of bringing their team together in one single room. Designers, when they discuss the possibilities of open plan imagine large-scaled decors designed to create an inspiring and modern environment. Places such as creative marketing agencies and tech startups, for instance, have embraced the open plan design as a way to differentiate themselves from the typical office interior. Creating a workplace without walls is perceived as the most reliable strategy to improve performance, productivity, and creativity. It's all about letting the ideas roam freely. 
However, the design trend is meeting an increasingly growing volume of critics who are not convinced by its appealing features. Is an open space office the right choice for your business? Seasoned entrepreneurs and experienced professionals agree that there are significant disadvantages and risks to consider before opting for an open workplace. Indeed, recent findings point to the importance of employees' well-being in the business. How many times have you read that keeping your team happy is the key to move your business forward? However, strategic tracking of employees' happiness and job satisfaction imply that the open space structure has negative consequences on the team's morale. It's time to put people back into your design plans and to create a workplace that supports personal growth. Here's why your employees don't like working in an open office and why you should consider bringing separations back into the office: 
High noise pollution levels
Communication should play an integral role in day-to-day business. An open space environment could appear to facilitate internal communication by encouraging employees to exchange ideas and talk to each other. However, open plan workplaces can be incredibly noisy as a result of it. Noise pollution is a major source of stress at work. It can affect phone calls as the background noise can become a distraction. Additionally, friendly additions can only lead to additional noise, such as the purchase of a radio for the office, for example. When there is no separator in between employees, sounds travel quickly through the office. The phone calls from the sales team can disturb other teams who are trying to concentrate on silent tasks. People asking questions or chatting with each other, the ringing tone of a mobile phone or even the sound of the printer can affect your concentration. According to studies, the ideal noise level for intellectual work – aka office tasks – should not exceed 55 decibels. However, open plan office can reach 65 decibels or over, which impedes collaboration, concentration, and productivity. 
They still try to divide the space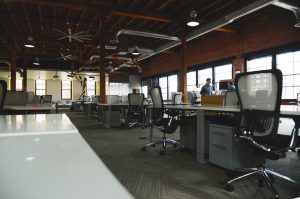 Ultimately, there is no such thing as a real open-plan workplace. Indeed, open space designs include separators as part of their settings. It's not uncommon to use plants as a natural barrier between people. Employees are sometimes spotted covering their deck with potted plants as a way of creating a vegetal wall and isolating themselves. Additionally, more and more workers listen to music in the workplace. They use their headphones as a division that keeps the surrounding noise and activity at bay as they focus on their to-do tasks. Other employees choose to block meeting rooms for a few hours to be able to get on with urgent projects. In other words, your team is trying to stay away from the open space environment. Therefore, it can be helpful to consider the introduction of appropriate separators such as used cubicles that can provide a manageable approach to personal space. Ultimately, a trial period might be necessary for everybody to get used to the new design. But it could boost productivity in the workplace. 
Employees hate a bystander
You can type most texts without even needing to look at your keyboard. Over time, most people develop muscle memory of the keys placement. However, as soon as someone is looking over your shoulder, you can't help but to commit mistakes and create unthinkable typos on the screen. As surprising as it might sound, you're not an isolated case. Most people get involuntarily nervous when someone is watching their screens. An open-plan design, however, doesn't leave much room for screen privacy. While there are solutions that tackle privacy issues in open offices, such as making your screen visible only when people look at it straight on, it isn't an ideal compromise for many workers. Indeed, your employees want to feel safe getting on with their day-to-day work without having the sensation that they are being spied on. The addition of separators in the office could reduce the risk of indiscreet looks. Indeed, someone working with confidential data or penning a resignation letter doesn't want to share information with their colleagues. 
It's sabotaging employees' concentration
According to research run by furniture brand Haworth, open-plan offices put employees at risk of losing their focus at work. Indeed, while the concentration problem is not new – employees have been experimenting with a variety of solutions to preserve their attention during the workday – there is no denying that the absence of divisions in the office accentuates the issue. Indeed, workers are overwhelmed with information as a result of the office design. Open spaces are thought to facilitate communication between employees. But the hyper-accessibility phenomenon, unfortunately, increases the risk of interruptions. Why send an email or plan a meeting when it's so easy to walk to someone and ask a question? However, the attitude leads to frequent disruptions in the day-to-day routine of employees, which force them to multitask or task-switch to keep up with the distracting queries. 
The buzzing environment affects creativity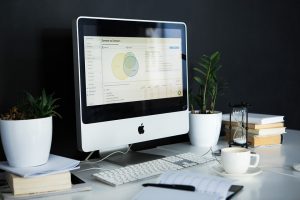 Marketing agencies and startups who claim that open-plan workplaces encourage creativity need to rethink their strategies. Indeed, noises and distractions can dramatically affect your team's ability to concentrate. Creative work is the result of a thought process. There is no such thing as a Eureka moment. Having an idea, and especially a good idea, takes time. It's a trial and error process at the end of which the best ideas remain. However, the time-remaining creative work requires a supportive environment that lets employees develop their ideas. Thinking is an active process. But unlike other business tasks, it's an invisible process. As a result, workers who are trying to tackle a creative project are often interrupted by their peers on the basis that they are not "busy". Interruptions make you lose your track of thoughts and cost a lot of time. Most people need approximately 20 minutes to get back to the level of focus and mindfulness they had reached before the distraction. 
It's a place of gossip
Office gossip exists everywhere. But open-plan workplaces tend to accentuate the presence of gossip. Indeed, when everything happens under everybody's eyes, the most simple gestures can have dramatic consequences. The office is a place where people are quick to judge each other. Being able to scrutinize your colleagues all day can only make things worse. When it comes to your business work culture, gossip can have a destructive impact. Indeed, as gossip is often built on unverified rumors, it can destroy trust among coworkers as the news shared turns out to be a hoax. More importantly, gossip can affect your staff at an emotional level. Nobody wants to find out that peers have been talking and spreading horrid stories behind their back. For companies, it can be impossible to carry on, and the team is divided. 
Not everybody thinks silently
How do you think? While it might seem like an odd question, it's essential to understand that everybody has their quirks and habits when they are lost in thoughts. Some people find themselves muttering as they approach a challenging problem. Muttering is a way of dealing with the information and working toward a solution. However, in an open-plan office, the mutterer can be told off for disturbing colleagues. Is there anything wrong about talking to yourself when you're going through the motions of solving a problem? Psychologists reckon that it is a healthy coping mechanism to develop your ideas and stay on track. Nevertheless, without appropriate office separation, it can become a source of trouble for the team! 
Activity-focused seating can help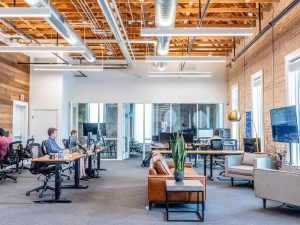 More and more workplaces are embracing activity and project-centric placements in the office. Indeed, by providing every member of the team with remote working equipment, they encourage employees who work together to sit together. Instead of staying with their team, professionals can join tables to collaborate on cross-team projects. For instance, in a marketing agency, it makes sense for a web developer, a content designer, and a branding expert to sit together to prepare a client's new website. On the other hand, if a client expects a cloud-based complex software solution to create a 360° degrees data report, the developer would work with a data analyst and a programmer. In other words, letting projects define the structure of the office negate the collaborative open-plan workplace and focus on targeted seating. 
In conclusion, the days of open-plan designs are coming to an end in the workplace. The need for physical divisions has increased rapidly as a way to support the productivity, performance, well-being, and creativity of your team.