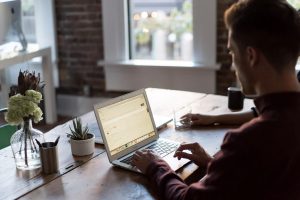 Working from home requires the right working environment – whatever the project. It doesn't matter whether you have a small business to run, or whether you're studying for an exam; the place of work needs to be on point. You might be able to get stuff done while you're led in bed or slouching on the sofa, but that kind of thing won't get stuff done very fast because you'll be too distracted by other things. An office or a study is crucial if you want to be more productive. If you're a pretty laid back person, then this might sound too formal, but it's absolutely necessary.
If you haven't quite got an office in your home or a makeshift version, then you might wonder how to go about creating one. If you have a spare room or some space available, then you could literally declutter the area and throw a desk down. Sometimes something very basic can do the trick. But, again, that kind of thing would probably run out of steam as time gets on; you'd need something a lot more formal! Here's how you can get something like that:
Draw Up A Design And Plan
Before you even make a practical move, you're going to want to figure out what you're actually doing. You don't want to head into a big project and quit halfway through because it didn't quite work out as well as your imagination. Designing an office isn't the easiest thing in the world, but simply drawing out a look on a piece of paper takes little to no effort. At the very least, you'll have a better image of how you want things to be. You can continue on this solid foundation. 
Get The Right Contractors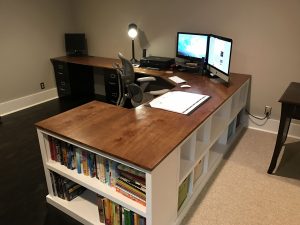 If you're looking to convert your loft, basement, spare room, or whatever else into an office; you might need to solicit expert help. You're probably not going to be able to build this kind of thing on your own. There are a range of construction services you can call up if ever you feel like a big project is needed. 
Keep Everything Professional
It's going to be for work – you might enjoy a break or two in there, but little-to-no recreation will take place in it; that's what the living room and your bedroom are for. Make sure you have a professional look and make sure you have all of the correct stuff in there.
Make Sure There's Enough Light
Nobody wants to work in a gloomy and dour environment. Allow lots of light to enter the room – you'll get a lot more done if you're covered in the sun's natural light. When it gets dark out, be sure to have enough artificial light in there, too. You'll want to feel good while you're working away at what might be pretty tedious tasks. 
Keep Everything Tidy
This goes without saying, but you're going to want everything to be neat. Light and professionalism are important, and so is the overall cleanliness and organization. You're going to be heavily distracted if you're surrounded by clutter for your entire working day.