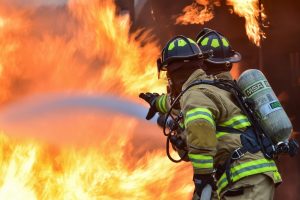 No matter the size of your business or the type of business you run, fire safety should always be a major concern when considering workplace health and safety. Alongside ensuring that your office space conforms with building regulations you should also ensure to have additional fire-safety measures in place to protect your employees and your building. 
A fire-safety plan and training
Although it's important to prepare for a fire the hope is to never have to deal with one at all. Prevention is the best course of action, so ensure that you have an up-to-date and thorough fire safety protocol and circulate this with your employees. In addition, consider providing additional fire safety training to equip your employees with the knowledge they need for fire prevention and protection. Also practice fire drills and  make sure that everyone is comfortable with their nearest fire exits and alternative ways of evacuation. If anyone on your staff is disabled or needs access to special measures be sure to provide them with the additional materials or training they need to safely evacuate and consider how they will exit the building should lifts or other disabled access ways be inaccessible.

Have adequate fire suppression equipment
One dusty out of date fire extinguisher hidden in the corner is not going to be much help in the event of a fire. Be sure to have adequate fire fighting equipment such as fire extinguishers and fire blankets and keep these within easy reach. Ensure that everyone on your staff is aware of the location of this equipment and how to use it and finally be sure to regularly inspect, evaluate and maintain this equipment to ensure it is in good usable condition.

Also implement smoke protection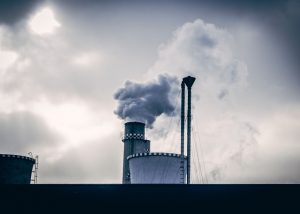 In the event of a fire the physical flames are just one of the dangers you will face. Smoke inhalation can be deadly and also very damaging to your property. To combat smoke damage and limit smoke inhalation be sure to also put in place smoke protection measures such as a smoke guard or smoke curtains which will limit the effects of smoke during and after as fire. As an additional precautionary measure you could also make sure that your staff have access to respiratory masks and are trained to evacuate under smokey conditions which can cause poor visibility.

Install an alarm
Every office should have a fully functioning fire alarm system. When installing an alarm try to fit one with both visual and audio signals to ensure that everyone is made aware of the fire hazard – it also helps to have lit fire escape signs above all of the available exits. It is crucial to have your alarms fitted by a professional technician who specializes in fire alarm installation so that you have peace of mind that they will be responsive and work when needed. Using the services of a technician who is up-to-date with all the latest guidance and the standards fire protection systems need to be effective is essential. For added protection, consider having your fire alarm system monitored 24/7 which will ensure that should the alarm be raised out of office hours someone will still send help to your building before it is too late. 
Although we all hope that a fire in the workplace will never happen to us, it's vital to implement as many fire safety procedures as possible in the unlikely event that one does occur.