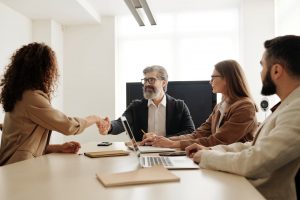 Without your staff, your business simply wouldn't be where it is today. It takes a team to build a successful company that attracts a healthy profit, as you need a variety of different skills and a large knowledge base to turn your commercial dreams into a reality. Ensuring that your staff can reach their full potential during each and every shift should always be your main priority, as you need to maintain good levels of productivity and efficiency to keep up with your competition and satisfy your customers. Fortunately, learning how to motivate and inspire your staff to ensure they can surpass expectations doesn't have to be as difficult as you might expect, as there are in fact just a few key steps that you can follow to help them thrive today. So, if you're interested in finding out more, then simply read on! 
Set Goals & Offer Attractive Rewards
One of the most effective methods of motivation that you can explore to inspire your staff involves setting goals and offering attractive rewards. If your employees have nothing to aim for, they'll be wandering from task to task with a little pep in their step – on the other hand, if you take the time to set both individual and team goals that your staff can work towards, they'll have something to keep them on their toes! Goals can include anything from a certain number of sales to particularly strong performance in-office, but make sure they're a good balance between challenging and achievable. Making their goals too grandiose will cause their motivation levels to drop even further below their current rate, as they'll simply see no point in working hard if it's never enough to meet your standards. Having attractive rewards is just as essential as the goals themselves, as you need to be able to entice your team to pull their socks up and meet their full potential. An end-of-year bonus, a fancy restaurant voucher, or even an extra day of holiday might do the trick! 
Never Stop Training Your Team
Your next focus when attempting to encourage your staff to flourish should be training, as you can't make the mistake of exclusively training your staff during their initial trial period. Training needs to be constant – your industry and your audience will be changing each and every day, and it's your responsibility to ensure your employees can keep up! Performing a training needs analysis on a regular basis is the best way to go, as this will allow you to pinpoint any weaknesses or areas that need improvement within your business that you can work on in your next training sessions. Allowing your staff to have constant access to the information and training materials that they need to complete their role to the best of their ability will no doubt improve their performance, so there's no time like the present to begin a thorough training schedule. 
Helping your staff to reach their full potential has never been so simple when you can take the time to utilize the brilliant tips and tricks described above!