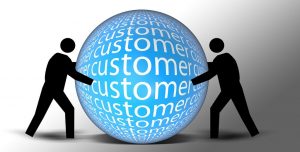 What makes your business what it is today? Is it your vision? That's certainly a huge part of it. Without your unique vision, experience and insight there would be no business. Is it your employees? Their hard work, ingenuity and ideas have taken your ideas to the next level and shaped it into its current form. But there's one thing without which your business couldn't hope to function no matter how much talent, inspiration and hard work are behind it… Your customers. Your relationship with your customers is crucial and makes all the difference between them continuing to use your products or services… And crossing the road to give their money and loyalty to your competitors. Consider a CRM. 
In an era where customers are growing more and more fickle, leveraging the right business tech can make all the difference in securing their loyalties. Here we'll look at Customer Relationship management (CRM) software and how it can make your business better.
They help to ensure continuity of customer service
Customers don't just like to do business with brands, they like to do business with people. You may well have customers who exclusively do business with one member of staff. Yet, when they fall sick or take a vacation, this can lead to a blind spot in your customer service that could damage the customer's impression of your brand. A CRM solution allows you quick and easy access to historic customer data including past purchases, marketing preferences and even little personal notes like birthdays and key events that can ensure that customers get the same personal level of service, no matter who's dealing with them.
They can be tailored to the unique needs of your industry
The great thing about CRMs is that they are comprehensive and multifaceted tools that are tailored to the unique needs and challenges of your industry. As well as being a one-stop repository for all of your customer information it can also feature other functionalities, wither built in or as plugins.
For example, ERP solutions for Dynamics 365 make for easier and more efficient resource planning for businesses that use Microsoft's CRM tool. No matter what your business does, CRMs can help them to do it more efficiently.
They make it easy to protect your customers' data
We live in an age where cyber crime is a threat that looms larger and larger with each passing year. As digital malcontents grow more and more devious in their attempts to gain access to company's data, the companies must take operational steps to ensure that their customer's data is secure. CRMs represent a centralized data center with tiered access so that employees can only gain access to the information that they need.  
They give you the gift of time
Finally, CRMs give something that all businesses could benefit from more of… Time. CRMs can assist with and facilitate greater automation of your processes, easing the pressure on employees and allowing you to focus on bringing an outstanding service every time.