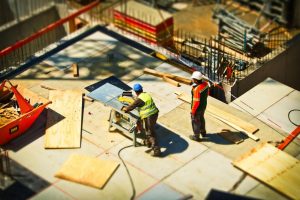 Construction sites are one of the most dangerous places to work. With all of the heavy equipment, tools, and materials, thousands of accidents occur each year on construction sites. Thankfully, there are ways these accidents can be prevented. It is imperative company owners, site managers, and construction workers do their part to reduce the risks of injuries.
Common Accidents That Occur on Construction Sites
Thousands of people are injured each year in construction accidents. Companies like Scotti Insurance are committed to keeping their customers safe. The following are some of the common types of accidents that occur on construction sites each year.
Falls are one of the most common injuries on construction sites. According to OSHA, falls are also one of the top reasons for deaths. Ladders, scaffolding, and working at great heights all put workers at risk of falls.
Crushing injuries also often occur on construction sites. When a worker is caught between equipment or objects, they can be seriously injured.
Construction workers are also in danger of being struck by falling objects. Falling debris accounts for many injuries each year.
Electrocution is considered one of the Fatal Four Accidents, according to OSHA. Electric shock occurs due to faulty wiring, improper procedures, and poor design.
Communication hazards also cause a lot of injuries and deaths each year. Hazard communication is often lacking on construction job sites.
Ten Ways to Prevent Common Construction Site Injuries
While there is no denying construction sites are dangerous places, there are ways to mitigate the dangers and protect workers. The following offers some integral information that can be used to ensure construction worksites are safer places.
Workers should have safety gear available and should always use it correctly. A lack of safety gear can cause a construction worker to be more vulnerable to injuries. With safety gear, workers are more protected.
Equipment must be maintained on construction sites. Improperly maintained equipment accounts for many injuries each year.
Construction companies must have safety protocols in place and must train their workers appropriately. Failure to have these measures in place will result in more injuries occurring.
Regular safety meetings are essential for keeping workers protected. These meetings help to ensure everyone is on the same page and knows how to conduct their work safely.
Breaks and lunches should always be enforced on worksites. Workers who are overly tired are more likely to make careless mistakes that could place themselves and their coworkers in danger.
Supervisors and safety team heads should conduct regular inspections of construction sites to ensure there are no safety violations. Regular inspections help keep construction sites safer.
Warning signage must be prominently displayed on all construction sites. These signs should be easy to read and announce any dangers.
All construction employees must be given regular and ongoing training for safety. Workers who have been properly trained are more likely to work safely.
Material handling and storage must be handled carefully and according to OSHA safety guidelines. Improper storage can lead to injuries.
Fall protection is a must on construction sites because falls are the leading cause of injury. Fall protection protocols should be mandatory.
Construction Companies Must Carry Workers Compensation
Because of the high risk of construction site injuries, owners must protect their employees with worker's compensation coverage. This insurance protects workers, should an accident occur that causes serious injuries.
Being Proactive Is a Must
Workers should report any safety issues to their supervisors immediately. Each worker needs to be responsible for conducting their work in a safe manner. With the tips above, construction worksites will be safer.