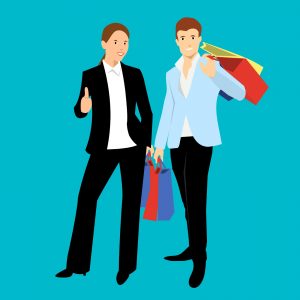 A lot of companies put all of their focus into attracting new customers, but returning customers can sometimes be just as important for business. To help get customers returning, here are several steps that you can take.
Deliver good customer service
Good customer service is the biggest thing that will get customers coming back. There are many ingredients making up customer service but some of the biggest ingredients include a friendly and caring attitude, speediness and a high attention to detail.
Not all companies deliver face-to-face customer service, but even in these cases you may be able to make small gestures such as sending personalized thank you emails or offering a telephone service for inquiries. Going above and beyond to be helpful and accommodating will make your company more memorable and is more likely to get people coming back.
Get to know your customers
Getting to know customers shows that you care about them as people and aren't just trying to take their money. This in return makes them care about you and will encourage them to return in order to show support for your business. Not all customers want to get on friendly terms, but many like to be remembered. This may be simple things such as remembering a customer's name or remembering their favorite order.
You can also get to know customers that you don't speak to face-to-face with by collecting data on customers – this could allow you to send these customers personalized ads and discounts. Some customers may not want you using their data like this, so always make this an opt-int feature rather than something you do automatically with all customers.
Introduce loyalty schemes and loyalty discounts

Rewarding customers for coming back can also be a great incentive for getting customers returning. There are many ways in which you can do this.
Loyalty schemes are popular with retail and hospitality services. This could be a loyalty card that allows customers to collect points that can then be used to get discounts on future purchases – there are PVC card printing companies that can build these cards for you. Alternatively, it could be a simple stamp card. Alternatively, you could go extra high-tech and introduce a loyalty card app that can be scanned in store or used online to collect points.
Meanwhile, if you offer a service in which customers are likely to come back less regularly, you could consider targeted loyalty discounts. Many tradesmen such as mechanics or electricians may offer discounts to previous customers to show appreciation for their custom.
Ask customers to join a mailing list
A mailing list can be a way of keeping previous customers in the loop when it comes to new products or promotions and possibly encouraging return customers. This could be via email, text or physical mail (the latter is a lot less popular nowadays due to the added costs).
There are bulk email tools that you can use to create these mailing lists. These tools can also allow you to see who is opening your emails and possibly who is clicking on links that you may have included within these emails.
Customers should only ever voluntarily opt in to your mailing list. You may be able to ask them to sign up in person or you may be able to add an opt in feature if people have to log in to your site. There could also be other strategies such as pop-ups on your site or getting people to sign up through social media.
Use social media to keep customers updated
Social media can be another way of keeping customers updated and possibly getting them to return. By setting up Facebook and Twitter pages, you can then use these platforms to post updates and company news.
You'll need to encourage customers to follow you on social media, which you may be able to do by asking in person or by including social media links in your email sign-off (and possibly on business cards and on signage). Maintaining a following isn't all about posting promotional content and you should try to also post entertaining and informative posts.
Keep up with the competition
Customers may not stick around if your competitors are offering better services or better prices. As a result, you need to keep an eye on your competitors and what they're doing so that you can find ways to stay ahead.
Nowadays there are lots of ways to keep an eye on your competitors. You may be able to find out what they're doing simply by looking them up on social media or checking out their website. On top of this, you may be able to ask customers directly what they think of competitors.
When it comes to keeping up with your competitors, you should try not to focus too hard on trying to copy their strategies. This could make you come across as a knock-off company, which will only encourage customers to seek out the original company. Having a USP (unique selling point) is often what will build your most loyal customers – you can identify a USP by researching into your competition and working out what they're not offering.