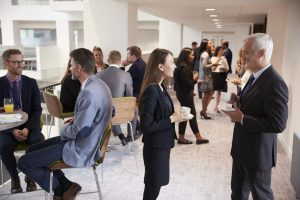 While networking online is quickly becoming the norm, it will never be able to replace the strong bonds that come from meeting people face to face.
Networking events will always be an integral part of building relationships with other people in your field. So, you need to know how to make the most of them.
Want to build sales and make lasting connections at your next networking event, but aren't sure where to begin? Don't worry, because we've got you covered.
Here are five must-have tips to help you get out of your next trade show or conference with a pocket full of new and possibly career-changing contacts.
1. Get Your Name Out There
It's hard to make friends with someone if you don't know their name.
We've all been there—you meet someone, shake their hand, talk a little shop and part with a promise that you're going to talk again soon. And then realize minutes later that you've completely forgotten that person's name.
While you can't always avoid forgetting someone else's contact info, that doesn't mean you can't stop them from losing yours.
Before your next networking event, arm yourself with a stack of business or identification cards.
Swapping business cards is an excellent way to make sure people remember you and increase your chances of doing business with them later on.
2. Use Your Elevator Pitch
Your elevator pitch is one of the most, if not the most, vital tools in your networking arsenal.
While we may not always like it, first impressions hold a lot of power. And, one of the best ways to make a good one is by having a well-honed introduction for yourself.
Remember, your elevator pitch doesn't need to be a TED Talk—the shorter it is, the better.
3. Embrace Being Uncomfortable
Sometimes, networking events can feel like a mini-vacation. But remember, you're not there to have fun.
It can be tempting to spend the duration of the event catching up with friends and enjoying some of the activities your conference may have to offer.
And while you should take time to touch base with contacts you've made before, you need to focus more on taking the plunge and meeting new people.
4. Set Goals for Yourself
Conferences, trade shows, and other networking events can be overwhelming. So, you should always try to create a plan of attack before you even set foot in the venue.
Look at the schedule of events and activities and decide which of those would be most beneficial to you and your business.
You should also set networking goals for yourself. These goals can be anything from meeting someone from a specific company to collecting a certain number of new contacts.
5. Be Last to the Table
While you should never be late to an event, there is power in being the last one to the table.
By waiting until everyone else has taken a seat, you can get a better lay of the land. You can get a good look at who's attending the same event as you, and who is talking to who.
On top of that, by waiting to take your seat, you have more control over choosing who you sit beside.
How to Build Sales and Connections
It may be tempting to do all your networking from the safety of behind a screen. But, meeting people in person can help you build more impactful and longer lasting relationships.
By following these tips, you'll be able to create new contacts and build sales at your next networking event with ease.
Are you looking for a little more business advice? We've got you covered.
We have dozens of articles on everything from getting the most out of networking to starting a brand new business. Check them out today!