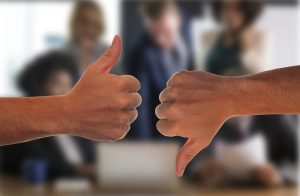 Business is all about images. Companies with the best image tend to do better than those with a bad one. It's all to do with the way the consumer views your organization. Luckily, this is entirely in your hands. You can sculpt a positive and professional image that entices consumers and draws in customers. Many things can be done, some of which are far more complicated than others. 
Likewise, plenty of things can harm your business image as well. Today, we look at some of the simplest things that make your business look bad…
An old website
An old and outdated website makes your business look pretty darn terrible. In today's world, this is a very simple thing. It doesn't cost much to build a professional website, and you can even get website builders that do a good job too. So many people find companies through online searches, so don't let your business fall behind from the start. 
No website
What's worse than an old website? Not having one at all! You don't need me to explain why this is terrible, it's pretty self-explanatory! If you sell products, you need to show them off online. Make sure your website is great and that your products live up to the hype. You can look-up alternatives to manufacturing in China for help on the product-side.
Bad spelling
This is perhaps the easiest way to make your company look bad. Poor spelling or grammar doesn't really inspire confidence in your business. People expect you to be able to spell things, and they want you to have excellent grammar as well. This applies to everything you say or do. Your social media posts need to have proper spelling, your website needs to; even your business cards. Everything that someone can read must be spelled correctly, or else your business will look pretty awful. 
Dirty office windows
You probably don't give your office windows too much attention, but they will impact your image. Dirty windows make you look incredibly unprofessional – especially if the other offices nearby are gleaming. Make sure you give yours a clean every week, to keep them glistening. If your office is near the top of a high-rise building, then look for some industrial abseiling services to get them cleaned professionally and safely. It's such a simple thing to do that makes a big difference – don't neglect it. 
Rude employees
When you hire people to work for your business, you expect them to maintain certain standards. Being polite and helpful is the absolute bare minimum required. If your employees smile at customers or sound happy and alert on the phone, then it makes you look good. People have a pleasant experience communicating with your small business, and they see you in a positive light. The opposite can be said of rude employees. If they never smile or respond in a discourteous manner, then it makes you look bad. It's simple politeness and etiquette; don't let this ruin your image. 
Has your business struggled to find customers? It might be down to a bad image. Look at everything on this list and see if it applies to you. If some of the things do, then this shows you have a lot to work on. Stop these simple things from harming your reputation and improve your business image today.