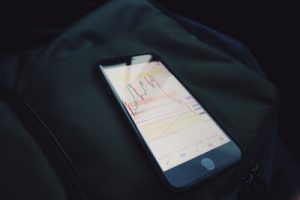 While you may not be able to explain to a stranger what IoT stands for, your life has been changed by it over the last few years. Have you heard of video doorbells, smart thermostats or seen commercials for new cars that can brake for you?
All of those things are driven by IoT. IoT, or the Internet of Things, has emerged from the shadows and found a way into many of our homes. This second Internet operates on a different layer of Internet technology stack as the "web" that we all use every day.
It's a hot technology sector that's spreading like wildfire. More uses for the Internet of Things devices are being incorporated into more industries and areas of our lives each day.
That's creating an excellent opportunity for you to invest in Internet of Things stocks with excellent growth potential. Whether you're looking to invest in a small start-up company for maximum growth or prefer a more stable and mature company you can find one. That means there is an investment option that would be suitable for you even if you're a complete investing newbie.
But first, you need to understand a little about how IoT works to know where to look.
What Makes Up IoT?
The Internet of Things is just that, a collection of things. These things usually take the form of smart sensors and devices that pass information to each other and to central controllers and smartphone apps. They use the Internet to transmit their data; hence the name.
Good examples of the smallest of these are the sensors you put on your windows or doors that trigger an alarm if someone tries to break in. Other sensors connect all the lights in your home so that you can turn them on or off with a voice command.
Businesses use these small sensors as well. Microchips in cows keep a dairy farmer informed of the health of his herd. For almost ten years, other businesses have used sensors to remotely control temperatures in large buildings or to report on the flow of oil through long pipelines.
It's estimated that by 2020, there will be more than 20 billion smart devices in use. Sensors, cameras, and controllers present one type of investment opportunity.
You can invest in the companies that make the controllers and smart systems. These include Amazon, Signify (makers of the Philips Hue smart lights) and Alphabet (the parent company of Google and owner of the Nest smart thermostat brand).
Go Small with Semiconductor Makers
You can also dig even further into the technology behind the Internet of Things. Each small sensor and device includes a smart "chip" for a brain. The makers of these chips are helping to fuel the growth of all of the smart devices everywhere.
A quick look at three of these chipmakers will show you just how diverse Internet of Things stocks can get.
Sierra Wireless
Sierra Wireless made a move into a developing Low-power wide-area (LPWA) networks that are critical to almost all types of IoT use. These devices don't need a lot of bandwidth or speed. As their name implies, they create a low-power mesh network that allows small devices to communicate for a long time.
LPWA devices frequently operate for more than a decade. This makes them a great choice for business uses. Right now, Sierra's devices are certified to work on the LTE-M networks of telecom giants like AT&T and Japan's KDDI.
Cypress Semiconductor
In contrast to Sierra Wireless, Cypress Semiconductor is going after consumer electronics and automotive spaces as well as the industrial sector. It has targeted the Smart Home sector specifically.
In 2018 it introduced new chips designed to integrate wireless connectivity into a variety of smart home automation platforms. LEDVANCE, leading LED bulb maker, chose the Cypress Bluetooth mesh technology for its smart lights. To get an idea of what this means, there are expected to be more than 57 million smart light bulbs in use by 2021.
Synaptics
Our third chipmaker, Synaptics is also at work in the smart home space. Instead of lights, they are making home audio systems smarter. In just one year, the company grew the revenue it receives from IoT from 14% of its total revenue to 22%. Juniper Research predicts the global market for smart audio devices will hit $10 billion by 2022.
Synaptics makes AudioSmart far-field digital signal processors (DSPs). This mesh network connects speakers wirelessly. More than that, DSPs can integrate Amazon's voice assistant, Alexa, into audio devices.
Ultimately, you'll find Synaptics chips in many of the smart televisions one the market. They'll also be in the sound systems and set-top box markets as a result of a current deal with a Chinese consumer electronics company.
Go Big and Broad with Funds
As seen above, smart chips are used to fuel bigger products like lamps and thermostats in homes. If you're looking for big name stable investment options, you can't get any bigger than investing in Amazon or Alphabet.
They are also used in today's cars. Sensors that beep at you when you drift out of your lane, cameras that help you back up safely and braking system sensors that react faster than you can are only the start. All of the major automakers are using these technologies, but the technologies are not necessarily driving their stock growth.
Makers of autonomous cars, on the other hand, depend entirely on these technologies for their success. Although we haven't seen any of them on the roads yet, there's plenty of stock plays out there for this area. In fact, research company CB Insights lists 46 companies developing autonomous vehicles.
If you prefer to spread your risk around even further, there are ways you can invest in many companies at once, even if you have a minimum amount of money to invest. There are Exchange Traded Funds (EFTs) and mutual funds devoted to the technology sector that you can use.
Invest in the Internet of Things Stocks
In just ten short years, the Internet of Things has grown from an experiment in linking small devices together to a driving force in business and consumer products. Smart devices that communicate with one another using the Internet are quickly going to number in the billions, then the tens and hundreds of billions.
Choosing the right Internet of Things stocks to invest in is not going to be simple. It's a decision we suggest discussing with an Investment advisor. To prepare for that discussion, check out this comprehensive library and learn more about investing in general.
Latest posts by The Fortunate Investor
(see all)