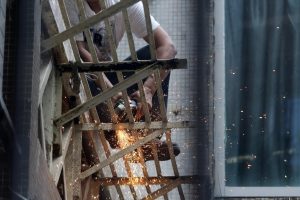 If you've ever been tempted to buy a property that needs a lot of work, you'll know that it can be very exciting and nerve-wracking at the same time. However, the rewards can be great. You need nerves of steel to take on a construction project like this. It will be stressful, but you can end up with something really special. Here are some top tips to turn a wreck into an investment. 
Think About Your Budget
The first step should of course be working out what you can afford. Remember that with a renovation project, you might need to pay for unexpected costs, like fixing woodworm or a collapsed joist. There are always unforeseen costs, so you'll never stick entirely to your budget. Build in some flexibility. Work out your budget, then add 20%. 
Some of the priciest repairs can be fixing damp, missing roof tiles, plumbing, and rotten window frames. You might need to pay for experts for some of this kind of damage, like https://www.hlrestoration.com/commercial-water-damage-restoration-service/. 
Are you going to live in the property? If not, you'll also be paying for rent or a mortgage elsewhere too. 
Viewing
When going to look at a potential renovation project, take along a builder or a building surveyor with you to help you get an idea of the costs of renovation. 
You can use the information from this walk-through to make a decision on whether or not to buy a property. You can also get a feel for a surveyor to see if you might want to work with them for the rest of the project. 
You could also talk to an estate agent about whether or not your plans for the renovation will add value or make the property less appealing through over-development. 
Making An Offer
If you're confident that you can afford your project, you need to decide whether or not you're going to take the plunge. There are some factors to consider. 
Don't underestimate the hard work. Renovations are hard work, so be certain that you can handle it. 

Don't underestimate the

costs

. Go over the numbers several times so you're certain your finances are correct. 

Go with your gut. If you like the house, you like the area that you want to live in, and you have a good idea of what you're going to do with the project, then trust your gut instinct. 

Don't be reckless. Think with both your head and your heart when deciding what to buy. 
Identify The Work That Will Make A Real Difference
It's going to be ineffective to renovate your investment property in one go. Doing this will only overwhelm you, and it will burn a big hole in your budget. A savvy real estate investor will maximize their financial rewards at minimum costs. This is a great way to capitalize on your investment property without spending too much out of your own pocket. Start by prioritizing and identifying the main renovations that will make the biggest difference in the property and increase the value of your investment for potential buyers. 
Find The Wow Factor
Identify what work will put your investment property on the map, so you can make sure that you add a wow factor to make the property stand out. This will allow you to set your own price. 
Think about which renovations will generate the highest return on investment. This could be a new countertop in the kitchen, new flooring, or a new bathroom. 
Prioritize To Avoid Paying Too Much At Once
Be deliberate in the way that you plan your renovations so you can better manage your costs. By prioritizing the work, you can keep costs to a minimum and make sure that you're working on the renovation areas that will reap the best return on investment, and will make the most difference in the house. If you want to target a specific set of prospective buyers, make sure you renovate to suit their tastes and preferences. This strategy will help you to get the right things done first, and save you time and money.
Skip Less Profitable Renovations
Consider which renovations will get you the higher ROI. Skip making small changes that won't make a real difference in the value of the investment property. A real change, whether it's big or small, should have the wow factor and give you a competitive advantage in the long run. Make smart choices to make the most of your budget.