An oft-repeated tall tale surrounding the origins of America goes like this: Founding father Benjamin Franklin once advocated for the turkey as the nation's official animal, citing the bird's courage. In a 1784 letter to his daughter, Franklin proclaimed the turkey's bravery to be so great that it "would not hesitate to attack a grenadier of the British Guards who should presume to invade his farmyard with a red coat on." This "turkey tale" has been dismissed by many historians as hyperbole, and it appears rather unlikely that Franklin ever seriously appealed for the turkey to be nationally honored. Apocryphal or not, the legend remains as a fascinating contrast to the true national animal: the bald eagle.
US Gold Coins
No symbol has proven more iconic, valiant, or enduring than the bald eagle in the American conscience. It is a small wonder then that U.S. Money Reserve has given the nation's official animal particular attention, offering three distinct coins graced with the bald eagle's image.
U.S. Money Reserve offers two gold coins featuring the bald eagle: The Gold American Eagle coin and the Double Eagle gold coin. The former presents an eagle on its return flight to a nest filled with an eaglet brood tucked away in the safety of their mother's great wingspan; the Double Eagle coin displays a bald eagle soaring through a backdrop of sun rays, all cast in ultra-high-relief gold. Each coin is fashioned from one ounce of its specific metal, including the third coin, the Silver American Eagle bearing the familiar seal of the United States: a bald eagle clutching arrows in one talon, olive branches in the other.
US Money Reserve Double Eagle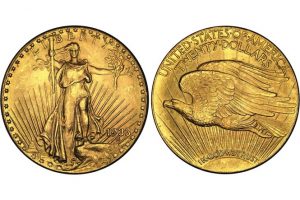 U.S. Money Reserve has taken great care in distinguishing these three coins. But no greater care has been taken than with the Double Eagle gold coin. The story of the Double Eagle reaches far back into the annals of American history. Seeking new coin designs, citing contemporary ones as "unattractive," President Theodore Roosevelt called for a makeover. Roosevelt employed American sculptor and artist Augustus Saint-Gaudens in 1905. Two years later, Saint-Gaudens produced the 1907 $20 gold piece, known as the Double Eagle (so named because it was twice the face value of the more common $10 gold piece of the day). A signifier of history and American creativity, the Double Eagle coin could also serve as a smart addition for holders looking to diversify their portfolios. The 2009 Ultra High Relief Double Eagle offered by U.S. Money Reserve today costs a good deal less than the 1933 edition, making it both affordable and potentially a safe-haven asset.
Though the bald eagle is forever married to our national identity, the symbolic impact of animals on American life doesn't simply end there. When considering the country's long history, we hold the American buffalo fast in our memories. In fact, three separate states have selected the buffalo as their state mammal: Kansas, Oklahoma, and Wyoming. Originally, the United States Mint only manufactured the five-cent buffalo piece—and only from 1913 to 1938. Though relatively short-lived, the Buffalo Nickel marked the first time an animal that wasn't a bald eagle had appeared on a circulating American coin. Almost 70 years later, The U.S. Mint brought back the Buffalo Nickel's design, creating the one-ounce Gold American Buffalo coin.
U.S. Money Reserve also offers non-American coins. Some of the most popular coins outside of American currency also feature animal images. One of these is the 2017 China 50 Yuan Gold Panda MS-69, featuring a panda among stalks of bamboo on its face. Like bald eagles in America, pandas are emblematic of both strength and great peace in Chinese culture. The Gold Panda coins offered by U.S. Money Reserve contain three grams of pure gold, and like the American Double Eagles, they offer holders another asset that may provide a more strategic financial future via greater portfolio diversification.
Portfolio Diversification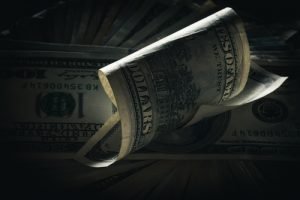 For even further portfolio diversification, U.S. Money Reserve also offers a one-ounce Gold Krugerrand. A South African coin, the Gold Krugerrand prominently displays a creature known as the springbok, South Africa's national animal. The springbok is an antelope highly regarded for its speed and leaping prowess.
Anthropomorphizing these diverse animals underscores a great commonality shared by all humans. Furnishing our legal tender with the likenesses of animals who symbolize us at our best is one of our greatest cultural expressions. Holders looking to diversify their portfolios may consider adding any or all of the coins mentioned as possible safe-havens assets. All are available from U.S. Money Reserve.
About U.S. Money Reserve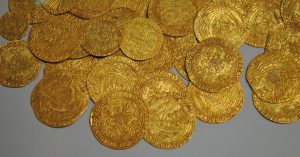 U.S. Money Reserve is one of the largest distributors of precious metals and government-issued coins in America. The company is the only gold company led by a former U.S. Mint director, President Philip N. Diehl. U.S. Money Reserve has helped hundreds of thousands of buyers and holders make decisions about gold, silver, and platinum over the years. Knowledgeable Account Executives apply their years of experience to evaluate buyer goals and objectives, helping you make the right decisions for your portfolio.