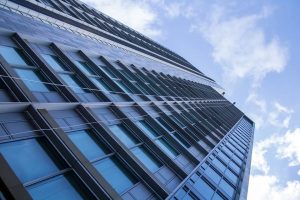 The pandemic has sent countless industries into a tailspin. If you're a real investor, you will see this as an epic opportunity. They say that capitalism can sometimes be predatory, but you should see it as a natural cycle of life. When there is a weakness in the markets, the weak will be eaten, allowing another company, investor or index fund to survive. The real estate industry is really hurting right now and it's because everyone is working from home and nobody is going outside to shop, eat or be entertained anymore. This is something you should not be afraid of. Instead, you should seek to invest in the following.
High-rise offices
They say that the office block will never ever be the same again. Since millions of employees are working from home, and actually being more productive, employers won't have the incentive to come back to the office in the same capacity as when they left. Well, this is absolutely true! They won't need to pay for as much space anymore and thus, they can invest that money into other areas. However, this means that prices will go down. So why buy or invest in? Well, take a look at co-working. Small businesses and entrepreneurs have been reluctantly using these spaces to work because they had no alternative. Now, since the price per square-feet is going down, an influx of micro-businesses will occur. The prices will eventually go back up again. Invest now!
A re-absorbing effect
The sad part of the pandemic is, it's not just people dying but people losing their homes. Many families have had to sell their home at a low price because they are out of a job and cannot afford to keep paying the mortgage. This is awful but we have to do something about it. A real estate investor will use a top real estate investor marketing agency to grow their portfolio as a buyer or seller. If you have a real estate company, whether you only purchase or you invest, using this kind of specialist company will focus your ads and content, only toward those that have the highest chance of a positive outcome. They have tons of experience in this field and they allow you to increase your chances of re-absorbing some of the housing market.
Warehouses and plants
Industrial real estate is another industry you should look into. As more and more companies decrease their capabilities, more manufacturing plants, storage facilities and more, will shut down for good. Rather than letting warehouses and such, rust and rot, you should snap them up at such a low price. Contact an industrial property specialist or you can contact industrial property construction companies to get information about where to look for investment opportunities in the area. 
Real estate is always going to remain at the forefront of investor-opportunities. But you may find that if you don't make a move now, none might be left. One day things will return to normal again and you don't want to have missed out on increasing your portfolio.