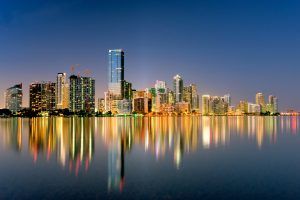 Miami is home to nearly 500,000 people and remains one of the most popular cities in the world. If you're thinking about getting a place in the city, the downtown area has just what you need.
Whether you're a single person looking for a condo or a family person looking to plant down roots, this area of the city has some attributes that you'll appreciate.
Keep reading to learn why buying property in Downtown Miami is one of the best decisions that you can make.
Downtown Miami Is Vibrant and Active
First and foremost, downtown is the place to be if you like energy and activity. There's never a dull moment in the downtown area since you're located close to South Beach and the tourism that it brings.
Miami nightlife is the stuff that legends are made of. If this is your scene, you will appreciate that you're within walking distance to bars, clubs, lounges, and music venues.
Because the area is so active, downtown Miami is also an excellent place to invest. You can rent out your place or become an Airbnb host to take in residual income year-round. Having a steady and reliable stream of income is an excellent way to start your wealth-building journey.
The Real Estate Market in Miami is Booming
Purchasing property in downtown Miami is also a great idea because real estate in the city is booming. Property values are increasing year-over-year, and the demand remains high.
Since more people are moving to Miami, you should expect this trend to continue. You'll get a phenomenal return investment (ROI) after purchasing a property in such a great area, and will appreciate the equity that you build.
The downtown area is also close to other popular Miami neighborhoods, such as Little Haiti, Coconut Grove, Little Havana, Edgewater, Brickell Florida, and Overtown.
There Are Several Different Types of Properties Available
There's no shortage of property types when you're exploring the downtown Miami area. You can look into a single-family home, waterfront property, Miami condos, and so many other types of places.
Speak to a real estate agent that can show you the many different listings available in the area. This will give you an idea of how much you need to budget based on the square footage, bedrooms, and bathrooms that you need.
Check out some different color schemes and layout options, and make sure that you choose a place that you can grow into over the years.
You can even check out some Waldorf Astoria floor plans to get inspiration for your new digs. Study the property values in the area and stay up-to-date with the tax rates so that you have a better idea of the total cost of living.
Find Your Miami Home Today
These tips explain why buying property in Downtown Miami can be one of the best decisions that you make. This area is hot and will only keep increasing in value as the real estate market booms.
Start here and check out our other articles to learn more about real estate strategies that can impact your life.