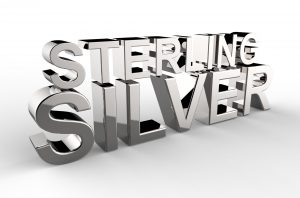 In 2020 alone, the world mined over 25,000 metric tons of silver. On the market today, you'll see a large variety of this popular precious metal, but how do they vary?
If you're interested in purchasing or investing in silver, you'll need to have a good understanding of its types and their values. But don't worry, we're here to make it easy for you!
Below, we break down five common types of silver you'll come across today. Keep reading to learn the basics of grades of silver!
How Do You Identify Silver Types?
Much of the silver jewelry you'll come across will have a quality mark on it. Makers are required to stamp the appropriate quality on the piece when space allows.
When buying silver, look for any identifying stamp you can see. Sometimes these stamps are only visible with a magnifying lens. For each type of silver below, we'll let you know what stamp it can be identified by.
While it's possible to forge quality marks, this is a rare occurrence.
Fine Silver
Currently, there is no such thing as 100% pure silver. The closest you can get is silver that is 99.9% pure, also called fine silver.
This type of silver is softer, making it ideal for earrings and necklaces. It isn't used often in rings or bracelets, which come into contact with hard objects more often.
Fine silver has a quality mark of .999 or .999 FS
Sterling Silver
This alloy contains 92.5% silver, with the remaining portion usually copper. Sterling silver is the most popular form of silver in jewelry and is one of the easiest to find when buying silver.
While bright and shiny, this silver will easily tarnish. A good polishing will quickly get it looking sharp again, though. Sterling silver jewelry is considered to be some of the best silver jewelry.
Sterling silver has a quality mark of .925, or sometimes Stg.
Coin Silver
Once quite popular in the United States, coin silver is now much harder to find. This alloy usually contains 90% silver and 10% copper.
Many of the coin silver pieces you will find today are actually antiques. You can identify modern coin silver on the market with a quality stamp of .900.
Silver Plated
A silver-plated piece is a base metal coated with an extremely thin layer of silver.
It's important to note that the actual amount of silver in these pieces is minuscule, the silver plating itself will eventually tarnish and wear off.
Silver plating is a common material used in costume jewelry. Silver-plated pieces will not have a quality mark.
Your Quick Guide to the Types of Silver
When you pick up a piece of jewelry, it can be hard to know what you have in your hand.
The more you know about the different types of silver, the more you can profit when purchasing or investing!
Looking for more advice on everything financial? Check out the rest of our site for more articles and advice.