Let's take a look into 70 Trades for Saudi Arabia traders and let's find out why this broker is a great choice for traders of all levels of expertise!
70 Trades Saudi Arabia Specs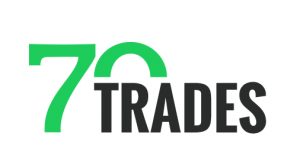 Trading assets: Currencies, market indices, bonds, shares, and commodities.
Software: PROfit Forex trading platform.
Languages: English, Spanish, French, Italian, Arabic.
Traders: They come from GCC – United Arab Emirates, Saudi Arabia, Qatar, Oman, Malaysia, and South Africa.
Payment Methods: VISA, VISA ELECTRON, MasterCard, Maestro, Skrill, Neteller, Eco Payz, Yuupay, and MoneyNet.
70 Trades Saudi Arabia: What You Should Know
First of all, 70 Trades offers a lot of tools to keep their clients up to date with everything Forex, to help them develop their abilities, and overall they provide a platform where their clients can continue learning. 70 Trades takes their client's safety and development very seriously.
70 Trades Saudi Arabia provides:
Customer service 24 hours a day, 5 days a week.
User-friendly trading platform.
Multilingual assistance, available in English, Spanish, Arabic, Italian, and French.
Simple and easy withdrawal process.
Online courses, such as: beginner course, advanced course, professional course, exchange operations with basic products, exchange operations with gold, and exchange operations with oil.
Video lessons.
Market news.
Professional analysis.
Formative sessions for every level; beginner, advanced, and professional.
Online seminars with investors around the world.
As I mentioned on the specs section, 70 Trades Saudi Arabia offers a trading platform called PROfit, which is available both on the web and on your mobile. On this platform, you can trade on the Forex market using a variety of assets, such as: currencies, shares, bonds, market indices, and commodities. What's more, beginner traders can customize their courses to learn exactly what they want to learn about the exchange of the asset of their choice.
We don't have to tell you just how important it is to check that the broker you're using has a valid license. In order to make Forex trading and online trading more transparent and safe for traders, governments around the world regulate brokers and offer licenses to ensure the users that the company complies with local laws. They also provide investors a bit of extra protection in case the broker is liquidated.
As for 70 Trades, they have a license from Vanuatu Financial Services Commission since they're owned by Commodius FX Ltd. This means that 70 Trades is under the oversight of Vanuatu's local VFSC. This means that 70 Trades is not a scam and you can take it into consideration if you're looking for a broker with which to start or continue trading.
70 Trades Saudi Arabia Trading Conditions
When it comes to trading conditions on 70 Trades, we can say that the following:
Spreads and commissions: 70 Trades works with fixed spreads starting from 3 pips.
Leverage: As I mentioned before, 70 Trades offers a maximum leverage of 1:200, which is definitely enough to work with and have a sensible trading strategy. Of course, high leverage amplifies your winning trades as much as it amplifies your loosing trades, so it all comes down to how you manage a double-edged sword.
Trading Platforms: The PROfit trading platform is very intuitive, user-friendly, and it's comfortable enough to work with. Beginner traders can definitely benefit from it and more experienced traders won't have a problem navigating it.
Last Words on 70 Trades Saudi Arabia

One of the main characteristics of 70 Trades is that, as a brokering company, they aim to simplify the trading process in order to lend a hand to beginner traders who are still more intimidated by the volatility of the Forex market than more experienced traders.
At the same time, 70 Trades take security and safety very seriously, which is why it makes sure that your funds are safe and that the risk of great loss is as minimum as it can be. The truth is that the Forex market is extremely unpredictable and it must be approached intelligently, which is why tools, courses and customer support are extremely necessary. In this respect, you won't be disappointed with 70 Trades platform!
The courses provided are very helpful and they're customized for each level of expertise. That means you have access to beginner, advanced and professional courses, and you can also take courses about specific exchange operations with basic products, gold, and oil. You will also have access to video lessons and 24/5 customer service via telephone, e-mail, social media and live chat.
All in all, 70 Trades is not a scam broker, and it offers one of the most complete set of services that will help you improve more and more each day.