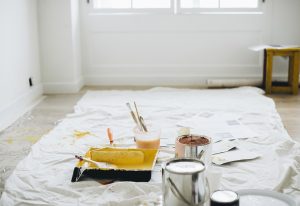 It's important to decorate your home every now and again to keep things fresh. If you don't, your home will soon start to feel outdated and run down, and that isn't a nice environment to be in. But decorating an entire room and replacing all of the furniture is going to be expensive, and if you are trying to save money, you probably don't have room in your budget for that. The good news is, that isn't the only way to change a room and freshen it up. There are plenty of cheaper alternatives so you can spruce up an old room without breaking your budget. These are the cheapest ways to completely transform a room. 
Rearrange The Furniture
Sometimes, you don't need to replace the furniture, you just need to consider the way that it is laid out. The way that a room looks has a lot to do with the way that furniture is arranged, so if you move things around a bit, you can make it look like a completely different room. When you are moving things around, consider where the natural light comes into the room and try to work around that. In larger rooms, you can use furniture to break the room up into different sections, which suit different purposes. 
Add Some Ceiling Tiles
Changing the textures in a room will give it a fresh new look, but that can be difficult sometimes. However, there is a very simple way to do it. You can get all sorts of ceiling tiles with different designs on them, which are so easy to install. Adding some ceiling tiles will completely change the texture of the ceiling and they can add a more sophisticated look to the room. They are simple to put up with a bit of glue, so you can easily do it yourself. 
Paint The Walls

Even if you can't afford to replace all of the furniture or take up the carpets, you can still breathe new life into a room by giving it a fresh coat of paint. This is one of those times where you can save money by learning a bit of DIY because painting really isn't that hard as long as you take your time and prepare the walls properly. If you are doing it yourself, it costs next to nothing to paint a room but it will make it look brand new. If you really want to make a big difference, you should consider adding a feature wall to the room. If you keep three walls the same color and then paint a feature on the other, or even add some statement wallpaper, it gives the whole room a completely different dimension. 
As well as painting the walls of the room, you should consider any wooden furniture that you have. It's very simple to sand down and repaint furniture, and it's a much cheaper alternative to replacing it. 
You don't need to spend loads of money to decorate your house. These are all great ways to transform a room on a budget.