A balanced approach to good money management is to save and spend money in a way that aligns with your goals and values. A healthy level of spending is important to enjoy what life has to offer. The problem arises when we let spending get excessive until it interferes with our future goals. Overspending is just as much of a savings problem as it is a spending problem. Money is a finite resource, we can't save what we don't have.
The best way to deal with spending triggers is to figure out what causes them and determine ways to overcome them. In this post I will address common spending triggers and practical ways to overcome them. Whether you are a saver or a spender, you would probably encountered some of these situations in the past. Also, take the time to review your finances with Personal Capital.
Coming into unexpected cash windfall
It is always nice to have an unexpected cash influx. Whether it is from a bonus, tax refund or gift from friends or family, having more money than anticipated is a good problem to have. However, if not managed well, it can trigger overspending, causing you to buy things you would otherwise not buy if you didn't have the money.
Solution: Set an ambitious savings rate for windfall income. For example: If your normal savings rate from your paycheck is 10%, strive to save triple this rate for windfall income putting away 30% of the money into savings. If the money is unexpected than saving this money should not impact your current lifestyle or household budget. This also allows you to spend the difference guilt free, knowing you're planning for your future as well.
On vacation
Being on vacation may make us forget about our financial obligations back home and spend beyond our means if we are not careful. Vacations are a great way to relax and get away from the daily routine, but we should strive not to increase our debt while on vacation.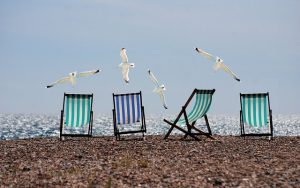 Solution: When planning for a trip be sure to have a detailed itinerary of the places you would like to visit and the things you would like to do each day. Research and jot down the cost of each of these activities, overestimate the cost of expenses you are unsure of so you don't blow your budget. Also, be sure to add a few extra dollars each day for unplanned activities. The idea is not to be rigid with your vacation plans, but to account for the planned and unplanned expenses that will occur while on vacation. Once you have an estimate of how much you will spend on food & entertainment/activities each day strive to track your spending either by paying with cash for these items tallying receipts periodically to have an idea of your spending while on vacation. Avoiding measures to keep spending within your limits may make for an enjoyable vacation, but a rather abrupt and unwelcoming debt hang over when you return home.
Emotional spending
Spending money based on our mood can be financially detrimental if left unchecked. Whether you are in a good or bad mood, or just bored the end result is the same. Figuring out solutions to emotional spending can be tricky and can take time but the pay off can be great. 
Solution: Before you can resolve overspending it is important to understand and identify the emotional trigger when they happen. Regardless of the emotion, try to do the following:
Figure out what events occurred that may have led to the way you feel. Can you assign emotions to these events?
Get an accountability person to help you spot your spending triggers when they happen. You may be too close to the situation to assess correctly. They should be someone you trust.
Implement 'guard rails' to prevent overspending, these may include: adopting the 72-hour rule on major purchases, shopping with a list, shopping with a friend that will keep you accountable, avoiding malls and social hangouts that will cause you to spend etc. 
Money is burning a hole in your pocket
If you feel like the money you have is burning a hole in your pocket and you need to spend it, consider these options before doing so.
Solution: Ask yourself these questions if you feel money is burning a hole in your pocket.
Do you have and use a detailed budget? If you don't have a budget or you are not using it, than you are not telling your money where to go. By having a budget in place, you spend the money guilt free, knowing your other needs and wants are taken care of.
Do you have realistic savings/investing goals? Maybe you have a budget but you are not allocating enough money towards short-term savings goals like an emergency fund or long-term savings goals like retirement. Have you considered the following when addressing your savings and investing goals?
Do I have an emergency fund in place? If I were to lose my job tomorrow or incur an unexpected expense, how long can my family and I survive financially without an income?
How much income do I want to withdraw each month when I retire? How much of a nest egg will I need to have in order to accomplish this? Use online retirement calculators to determine the monthly contributions you will need to reach your goal. If the monthly contributions required is higher than your current monthly savings, divert some of this money towards your savings goals.
What other expenses have I not considered? Will I be paying for some or all of my child's post-secondary education? Do I plan on buying a house or upsizing my home in the future?
Having a detailed budget and knowing what your future savings and spending goals are may help minimize the desire to spend the money immediately. Setting concrete goals can help curtail spending to meet your all needs and some of your wants.
Holiday Spending
Another instance that can trigger overspending is spending during the holidays like Christmas, Thanksgiving and New Years. The holidays can be a fun but financially stressful time for many families as they strive to get the best for the ones they love, sometimes potentially jeopardizing their own financial well-being without even knowing it. 

Solution: Create a budget and save well in advance for the holidays. Set aside a small amount of money each paycheque (month) until you reach your desired amount. Use a holiday spending planner to track your spending for the holidays and avoid debt afterwards.
Deep discount sales
Retail stores may offer deep discounts during certain times of the year like black Friday, sales on out of season items (i.e. Christmas decorations after Christmas day) and back to school sales. Finding good deals is a great way to save money, but this may be a form of overspending if you had not planned to purchase these items and/or buy these items with debt. 
Solution: There are a few strategies that can help reduce the need to purchase deep discounted items just because they are on sale.
Know in advance what major ticket items you want to buy during the year. Make a list of the major ticket items you wish to purchase during the year. January is a great time to do this (although any other month will do) because it is the start of a new 12-month calendar cycle. Examples may include laptop, television, expensive clothing or accessories etc.
Determine when is the best time to buy. Figure out which time of the year is best to purchase the items on your list. For example, black Friday has great deals for certain types of products like electronics or appliances. Check out Swagbucks to get money back on purchases.
Stick to your list. Avoid buying items just because they are on sale. Stick to the list you created and only add items if you genuinely feel you need them and have the money to pay for them.
Equate purchase price with hours worked. Sometimes even the best deals aren't worth the money if you translate the purchase price of the item to the number of hours you would have to work in order to pay off or buy the item. For example, let's say you found a pair of nice designer shoes for $250 and earn $20/hour at your job. You would have to work 12.5 hours in order to buy those shoes. If you work an 8-hour work day that is a day and a half of work. If you factor in taxes and deductions that can easily push it to 2 days of work. 
Peer pressure
7. Peer pressure doesn't just stop at grade school. As adults we encounter different forms of peer pressure all the time. Whether it's the pressure to buy a house, live in the right neighborhood, drive the right car, get married, start a family etc. these pressures have a financial impact on our lives and the decisions we will make about how we spend our money. Avoiding peer pressure can be hard and although it may be very difficult to completely eliminate peer pressure, we can try and reduce its impact on our lives.
Solution: Here are a few ways that can help in minimizing the impact that peer pressure may have on our finances:
Re-visit long term financial goals. If you feel pressured or tempted to make a purchase because your peers are doing it, it may be beneficial to revisit the reasons you set these goals in the first place. Ask questions like:

How will making this purchase affect when I am able to meet my other financial goal?
Will not meeting this goal in the time frame I envisioned impact me negatively?
What is the benefit of postponing my plans in order to make this purchase?
Re-visit your values. Most of the time our values will be reflected in the financial goals we set and vice versa. If these two are not aligned, we need to figure out why and realign our goals to match the values we uphold. Everyone's value system will be different but should match their goals and how they live. This money and life values quiz can help assess how your value system may affect your money decisions.
Out with friends
We all desire to have healthy relationships with the ones close to us. Having a good time with close friends is important. However, we need to be mindful of our spending when out with friends. Even within our closest friends we will find that we have different financial goals and outlook on money and how to manage it. Spending extra dollars here and there can add up by the end of year.
Solution: Here are a few options to managing your money when out with friends:
Let your friends know of any major financial goals you want to achieve and why it is important for you to do so. If they know why you can't always go out, they will be more understanding of your situation and may even suggest more cost effective alternatives.
Offer more cost effective ways to hang out like hosting a potluck, playing board games, using sites like Groupon to plan activities.
Re-visit your budget and see which expenses you can but back on so you can increase your entertainment budget.
Be ready and willing to say no to activities that will push you beyond your spending limits. Have an accountability person help you with this if needed.
These 8 triggers that can cause overspending can be a big budget buster if not addressed and resolved in the long term. Effort should be made to ensure that spending is in check. By dealing with the triggers that cause overspending, we are able to live within our budget, reduce debt and save for the future.