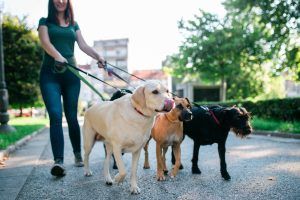 If you're among the roughly 38% of Americans owning a dog, you might need some help with the responsibilities. If you work full-time or have kids, it can be hard to schedule that essential morning or afternoon walk. But is it worth paying money to enlist a helper?
Stay with us to learn whether hiring a dog walker is right for you!
Keep Your Dog Happy and Healthy
When it comes to improving pet health, walking and playing are key. Your dog should be getting at least 30 minutes of walking each day to help their cardiovascular health. A dog walker can provide this!
As your veterinarian will tell you, regular exercise will help your pet to avoid packing on extra weight. And it will help cut the risk of arthritis and other problems. As another benefit, your dog will love the socialization of walking or hitting up the dog park and feel happier.
Avoid Disrupting Your Work Schedule
A dog walker can work with you to customize a schedule that avoids disrupting your workday. For instance, if you work a standard 8 to 5 schedule, you might need a dog walker to stop by over lunch on weekdays. Or if you work through the evenings, you can bump the walk time later.
Or, perhaps you need someone to tackle house sitting if you have a vacation that you booked as a pandemic purchase. In any case, a dog walker can help!
Consider the Dog Walker's Experience
Before hiring anyone to take up house sitting or dog walking, you want to meet them. After all, you're handing them a key to your home — and trusting them with your best friend!
If your dog is aggressive, you want a dog walker who is capable of being firm. Ask your potential dog walker what breeds of dogs they've worked with and what difficult situations they've encountered. View this informational article to find out what can happen if a dog acts out.
Weigh the Costs and Logistics
Ultimately, you want to choose a dog walker that fits into your budget. Do the math to figure out monthly expenses. Some dog walkers may ask for mileage reimbursements, too.
Don't necessarily go for an inexperienced dog walker to save money. You want to hire one with strong referrals, especially if you're letting them stay in your home.
Ask about their cancelation policy and payment preferences. And ask if they'll be walking other dogs at the same time.
Consider microchipping your dog if you haven't already. This will make it easier to track them down in the unfortunate event they get loose. And you could even ask a neighbor to be nosy and watch to make sure a new dog walker shows up the first few times.
Look into Hiring a Dog Walker
A dog walker can help you give your pup the attention they need when you're not around. If you have a busy work schedule, you can rely on a dog walker to provide exercise and attention. Work with them to determine a schedule, and always do a meet and greet before committing to one.
Get more advice to keep your life in order. Check back soon for new articles!