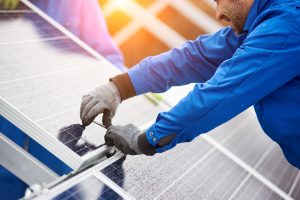 Are you considering going solar? Opting for solar power is a great option for the ecosystem, your wallet, and the world in general. It prevents you from needing to use fossil fuels to sustain your home and solar energy is free of pollution! You'll also save a pretty penny on utilities.
But how do you make that jump?
It's easy to say you're going to switch to solar panels, but actually moving towards solar panel installation for your home is a different story.
We're here to help you get started. Keep reading to learn more about solar panel home installation and how you're going to go about it.
How Many Panels Do You Need?
This is the first question that you should be asking yourself once you've committed to switching to solar energy. How much energy do you actually need and use every day?
This will depend on a few factors. The first is the size of your house. Larger houses are going to cost more to light, heat, and cool.
It also depends on how much power you and your family use. Do you always have the heat or air conditioning on? Do you have a big family that always has lights on in their respective rooms? How many kilowatt-hours of electricity do you use per year?
Utility companies can show you how much energy you've used over the past year when they send you your bill.
You then need to see how much energy each panel can provide. This will vary depending on the weather that your area experiences. While the sun is always providing power, cloudier areas that receive less sun will give less energy to your solar panels.
How Much Will Solar Panel Installation Cost?
Solar panel installation isn't cheap but the potential tax breaks, refunds, and lower utility costs combined with the contributions to the environment are worth it over time.
Cost is still a factor for most households, though, so you should make sure that your budget allows for installation (or see how much you should be saving so that it fits within your budget).
These systems are good for decades, so the biggest cost is going to be that upfront investment. They also add value to your home should you decide to sell in the future. They don't require much maintenance and you'll save a lot of money over time.
To figure out if the cost is going to be worth it, consider the thoughts mentioned in the previous section. How much light will these panels get in your area's weather? How much power do you use?
Overall, you can expect to pay between $15,000 and $25,000 for the installation of your panels. It's a big upfront cost, but don't forget about the savings.
Is It Time to Go Solar?
Opting for solar power is a great way to support the environment and save money on your utility bills. More and more people are choosing solar energy. It's reliable and it's from a renewable resource: the sun!
Once you've calculated the number of panels that you need and the cost that you should be budgeting for, reach out to solar companies in your area for quotes on solar panel installation. It's time to give solar energy a chance.
For more posts like this on ways that you can save money by spending less, visit the rest of our site.