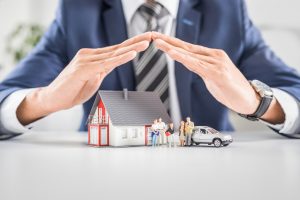 Owning a home can be a satisfying and rewarding experience. You have a place to call your own and the freedom to use, decorate, and modify it as you see fit. It's a place to entertain guests, spend time with family, and enjoy your free time. It's your constant, secure, safe haven in an otherwise rocky and uncertain world. Once you pay the mortgage in full, your home may even be something you can pass along to loved ones when you leave the physical world.
When Things in the Home Go Wrong
Having said all that, being a homeowner also comes with certain responsibilities and challenges. You have to make sure all the systems and components of the home always work properly. At the same time, you're faced with several dangers, such as fires, floods, theft, and vandalism. While insurance for homeowners could be your saving grace in situations like those, coverage providers expect you to meet certain requirements before they'll payout on your claims. Take a look at the following six oversights that could potentially void your insurance coverage.
1) Ignoring Routine Maintenance
Components of your home are bound to age due to constant use and exposure to the elements. Routine maintenance services are geared toward keeping all those age- and wear-related issues at bay while making minor repairs before they have a chance to get out of hand. If your home acquires damage and you haven't kept up with routine maintenance needs, your insurance may not cover the cost of repairs and replacements.
2) Not Insuring Home Improvements
Certain home improvements should be reported to your insurance provider. These include renovations and additions. Your existing homeowner's insurance won't cover the new features of your home. You have to update your policy as needed to ensure those elements are safeguarded against damage and losses.
3) Running a Business from Home
Simply working from home won't necessarily negate your homeowner's insurance coverage. Operating a business from your house can leave you in the lurch, though. If you start a business and run it from your home, be sure to notify your insurance provider to make sure your equipment, inventory, and other assets are fully covered.
4) Illegal Activities
Doing something illegal from your home, such as growing marijuana in a state where it hasn't been legalized or selling stolen goods, will inevitably void your homeowner's insurance. Hosting paying guests when you're not zoned and insured to do so can also lead to a lack of coverage.
5) Filing False Insurance Claims
Some homeowners have been known to exaggerate the values of their belongings and home furnishings when filing insurance claims. Doing so will surely cause problems both now and in the future.
6) Leaving the House Unattended
Insurance companies don't expect you to stay at home all the time. They understand that you're going to go on vacation, work-related trips, and other outings from time to time. If you have to leave for an extended period, though, be sure to have someone regularly check on the house. Your policy will dictate how often your designated house-sitter needs to check-in.
In a Word
Homeowner's insurance can be an immensely helpful tool. It'll help repair your house and replace your belongings if something goes wrong, like a fire, flood, or burglary. Still, certain rules and limitations apply. Be sure to keep these factors in mind so you won't end up suffering a loss should things take a turn for the worse.