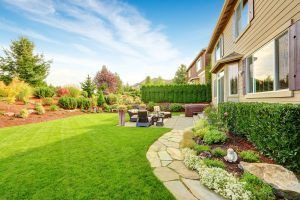 As much as today's life's essential functions rely on computers, don't forget that spending time outside is good for your health. Nonetheless, not all outdoor spaces are equal. You have to admit that standing on a flat, bare lawn isn't much inspiration.
Exciting backyard garden design ideas are a convenient first step towards a better relationship with the great outdoors. You'll enjoy the scenery even when far from public green spaces. Investing in your yard also raises property value in a competitive market.
Curate home outdoor spaces to be proud of with these wowing garden design ideas.
1. Embrace a Watery Wonderland
Believe it or not, you don't need to break the bank or have professional skills to fill your yard with luxurious water features. You can use pre-made tubs, store-bought plants, and water pumps for fountains and ponds.
If you want a bigger challenge, building impressive water wall centerpieces isn't impossible for the average handy person. These magical features are achievable without pro-level skills…but more reassurance never hurts. Hiring a garden landscape company like Heartland Turf & Landscape ensures quality.
2. Bring the Natural World Closer to Home
Rewilding" is a kind of garden landscaping touted by nature-lovers worldwide. Participating gardeners grow native flora so local wildlife returns to the human-affected spaces that drove them away.
Without taking action against unnatural and invasive species, imbalance grows. It even encourages pests and other personal struggles in outdoor spaces. By rewilding, you can lessen these issues, limit your impact, and enjoy the yard more while you're at it.
Rehabilitating your backyard with eco-friendly lawn maintenance tips may be easier than you think. Clear human-centered features and plants to bring back those that belong. After, all you need to do for the most part is sit back and watch the garden grow.
3. Sustain Yourself and Others With Fresh Produce
Who doesn't like saving money at the store and combatting hunger? Growing backyard food gardens is an ideal way to use home outdoor spaces for good. It also brings joy and meditation to many.
Taking extra produce around your area and stocking food pantries are a couple of easy ways to help others. They're win-win actions, too. Needy people get to eat and you don't have to use twenty zucchinis before they rot.
You can expand on food garden design ideas if you're allowed a "micro farm" in your area. Common urban livestock includes honeybees, ducks, chickens, and mini goats.
Check local laws and HOA rules if you're eyeing major plans like these. Don't be too glum if they dash your hopes and dreams. Your food garden needn't be huge to lend you sustenance, fulfilling discipline, and relaxation.
There may still be options if you like this idea but worry it's too much to handle. There are food garden designs for city yards, disabled people, time crunches, and more.
Grow the Life You Want With Backyard Garden Design Ideas and More
These backyard garden design ideas are a few of a wide range of inspiring concepts. You're sure to benefit whether you adopt one of these garden design ideas or another variety.
You're on the right website if you want more ways to grow the life you want to lead. Click on another article for more home, finance, and business tips for success.