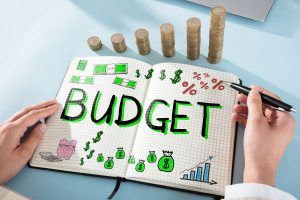 Are your finances lacking? If you answered yes, you aren't alone. 73% of Americans are stressing about their finances. Perhaps you're searching for ways to improve your financial situation.
There's no need to struggle with finances anymore. Below are a few budgeting tips you can start using today.
These tips can help you take your finances from a rough and rocky place to a more stable, solidified place.
1. Create Your Budget Before the Month Begins
One of the best budgeting tips is to create a budget before the month begins. This lets you know exactly how much money you have to work with and where it needs to go.
Once you have your budget set, try to stick to it as closely as possible. Review it regularly and make changes as needed.
2. Establish Needs Versus Wants
Needs are items that you must have to live, such as food, shelter, and clothing. Wants are items that are not necessary for survival but you desire, such as a new car or a vacation.
Prioritizing needs over wants is crucial to maintaining a healthy financial situation. When making spending decisions, always ask yourself if the purchase is a need or a desire. If it is a want, consider it something you can live without.
3. Prioritize Debt Repayment
The most important thing you can do to help your finances is to focus on debt repayment. This means paying down your debts, starting with the ones with the highest interest rates.
One way to get a handle on debt repayment is to use cash lending services. These services provide loans to help cover the cost of debt repayment.
They can be a great option if you need a little extra help getting your debt under control. Just be sure to compare interest rates and terms before you choose a loan, so you can be sure you're getting the best deal possible.
4. Automate Responsibly
When it comes to budgeting, one of the best tips is to automate your finances as much as possible. Automating your finances means setting up automatic payments for your bills and savings goals.
This can help you stay on track and avoid late payments or overdraft fees. It can also help you save money by putting your money into savings before you have a chance to spend it.
5. Observe a No-spend Day
One budgeting tip is to observe a no-spend day. This means that you do not spend any money for one day. This can be a great way to save money and handle your spending.
6. Expect the Unexpected
When it comes to budgeting, one of the best tips is to expect the unexpected. Unexpected expenses can often derail even the best-planned budget. So it's essential to have a buffer to cover these costs.
One way to do this is to create a "miscellaneous" category in your budget and fund it with a certain amount each month. This way, you'll have the funds to cover any unexpected expenses without having to readjust your budget completely.
Follow These Budgeting Tips Today
Budgeting is an essential part of maintaining your financial health. By following these budgeting tips, you can take control of your finances and improve your financial situation.
If you need help getting started, many resources are available to assist you. Take the first step today and start budgeting to improve your financial health.
For more lifestyle and finance tips, check out our blog.