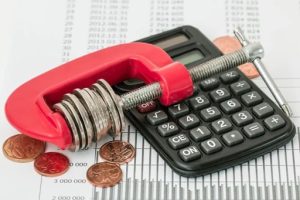 If living through the past two years of a global pandemic has taught us anything, it's that job security is an illusion. Anything can happen anytime, resulting in losing a job and wreaking havoc on your household finances. To make things worse, less than have more than two months of expenses saved for emergencies.
If you have suddenly lost your job, you are probably worrying about how you will make ends meet until you find another position. The key is to stay calm and take stock of the whole situation. You may have more resources than you know about.
While it is possible to get loans on Employment Insurance, it's best to take stock of your finances before you incur any further debt. Let's take a look at a few ways to tighten your budget when you lose your job.
Track Your Spending
It's impossible to adjust your budget if you don't know where your money is being spent. Collect all your essential bills and receipts to find where your money is going. Once you track your monthly spending on paper, you may see a few places where you can cut back. Eating out, entertainment, daily coffees, and lunches, for example, are expenses you can cut when you lose your job.
Essential and Non-Essential Expenses
The key to cutting your budget is identifying the essential expenses from the non-essential. Your essential spending should include rent or mortgage, utilities, food, and insurance. Every other payment can be negotiable. Things like expensive cable packages, fast food meals, and magazine subscriptions can be put to the side until you are back to work.
Negotiate With Lenders
When you lose your job, making all of your regular payments to your lenders can be challenging. Whether you have credit card debt or other loans, now is the time to be upfront and honest about your circumstances. Most lenders are only interested in getting some kind of repayment and are willing to renegotiate your repayment terms to ensure that you can still keep paying. Some credit card companies will arrange for a few payments to be deferred to help you get your finances under control.
Priority Job Search
The most important priority when you lose your job is finding other employment. You need to treat your job search like it is your new career. You will be rewarded with a position much faster than you think with the right efforts. Make sure your resume is updated so you can start sending it out immediately.
Countless online job posting sites like Indeed can help you find a job, update your resume, and teach you essential job searching tools. You may also want to work with a placement agency to help you find a position that fits your skills.
Cancel or Hold Subscriptions
On average, U.S. households have nine paid subscriptions. Anything from sporting magazines to podcasts and cable packages could weigh down your budget. When you lose your job, you will need to consider canceling or pausing your subscriptions while you look for another position.
Losing your job suddenly can be overwhelming and scary. Get yourself organized, prepare for your next job search, and get your finances to help you survive until you start your next job.