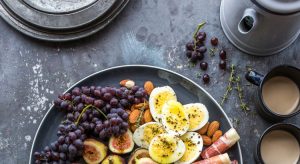 Buying groceries can be a great way to save money compared to eating out. You also have the added benefit of knowing exactly what is being added to your food and how it is prepared. However, grocery shopping can also lead to spending more money than is needed when food spoils or we get rid of it. Here are a few tips I found helpful to help keep my grocery bill within budget and avoid throwing out food.
Plan meals and create grocery list based on meal plan
Meal planning is a great way to ensure you only buy the food you need. Every approach to meal planning is different and some planning strategies are more detailed than others. However, I found knowing the following information useful when planning your meals, regardless of what approach you take:
Know how often you consume your cooked meals as a household (meal cycle). For our family, meals that are cooked typically last 3 days before more food needs to be cooked. When determining this, be sure to account for:

Both foods prepared for breakfast, lunch and dinner. Typically, I found that are breakfast grocery purchases last much longer than 3 days, but our lunch and dinner grocery purchases last for about 3 days
Holidays and time off work. Holiday meal planning will more than likely require more food and be consumed more quickly depending on the number of people in the home at that time. I also find that if I take time off work, I eat less food than if I was working.

Align your meal cycle with a cooking schedule that works best for you. Once you know how often your household consumes food, you can determine the best time to cook and delegate this task to members of the household, if need be. Setting a schedule in advance on when to cook meals will help you avoid eating out if you run out ingredients at home and ensure you set a time to cook when you are less busy. For example, if you know that Wednesday is your day to cook, but you have other pressing commitments, you can decide to cook earlier, on Tuesday. Here is an example of a meal cycle plan for a typical week: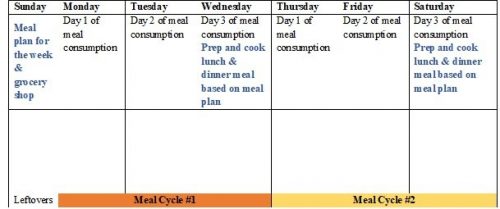 Use apps likes Google Keep for maintaining your grocery list
There are a lot of great apps that can be used to store a grocery list on your mobile device. One app I use for my grocery list (and other reminders/thoughts) is Google Keep. Here are some of the reasons why I like Google Keep for my grocery list:
Its not just a grocery app. To avoid having too many apps on my phone taking up unnecessary memory space, I use Google Keep because I can use it for a lot more than my grocery list. Google Keep allows you to store lists, notes, photos and record voice memos. In addition to my grocery list, I will often use Google Keep to store information on future blogging topics or other business ideas I may have for the week.
Autocomplete feature. Google Keep has an autocomplete feature when preparing a list that allows you to select the complete word after typing a few characters. This saves me time and money.
Pull up list through voice recognition. Instead of scrolling through your app inventory, you can use Google's voice recognition feature to pull up your grocery list. Just state the title of your list (or thought) and Google will pull it up for you. An example might be 'Google, open up my grocery list.'
Share your list or thoughts with others. Can't make it to the grocery store and need someone else to go, share your grocery list with someone. You can also set up a reminder for the list to remind you when it is time to go grocery shopping.
Don't forget about variety
Even on a tight budget, variety is important for the palate so make sure to incorporate different types of dishes and to change it up a bit. Variety does not always equate to spending more money, but it will require a bit of time, creativity and effective planning to make it happen. Here are some tips to add variety to your meal plan on a budget:
Decide on one to two protein based items to cook as the starting point for your meal plan. For example, you may decide that this week you will cook something with fish in the first meal cycle and chicken in the second. For vegetarians, beans/lentil and tofu as an example. I find that once you decide your protein based item, it becomes much easier to decide what sides to incorporate (e.g. rice, vegetables, potatoes, salad etc.).
Choose simple recipes that require most of the ingredients you already have. Some of the ingredients in recipes can be substituted for similar items you may have at home. I try and focus on recipes that have few ingredients or recipes where buying these ingredients will not break my budget and I can use the items for subsequent meals. Websites that have simple recipes include AllReceipes.com and RealSimple.com. Consider utilizing 5 ingredients or less recipes to ensure you simplify your meal prep.
Utilize the crockpot and steamer. If you want to incorporate variety in your meal planning, this will probably require you to cook more often (e.g. twice or three times a week instead of once a week). However, meal planning can be time consuming if not managed well. Between choosing the meals, making your grocery list, shopping and cooking the food you can find yourself spending a lot of time of meal planning. Here are a few things you can do to cut the time substantially while still incorporating variety:

Use the crockpot whenever possible. Crockpot recipes can be huge time savers, allowing you to focus on other tasks while preparing your meals. I enjoy the crock pot recipes from Crock Pot the Original Slow Cooker but there are so many other options online as well.
Steam your food if possible. Steaming is a quick and easy way to prepare certain foods. It is also a great way to preserve nutrients from foods like most sea foods and vegetables. Although steaming may not be an option for every meal plan, it can be a time saver and takes a fraction of the time to prepare. A good website for steamer recipes can be found at Genius Kitchen.
Cook moderate portions
To avoid food wastage and ensure a variety of meals, cook moderate portions proportionate to your family size. Determining what amount this will be for your household will become easier as you start to understand your meal cycle.

Keep foods in appropriate sections of the fridge
Depending on the type of fridge you have, a conventional fridge (freezer at that top), a fridge freezer (freezer at the bottom) or a frost-free fridge (typically more modern and has better circulation) will determine where you should store your food. Pinterest has a lot of great images on different food storage ideas based on your fridge type. To avoid food spoilage, be sure to place both cooked and uncooked foods in the appropriate place in the fridge. Failure to do this can lead to food spoilage or freezer burn.
Start saving now you can invest for the long term.