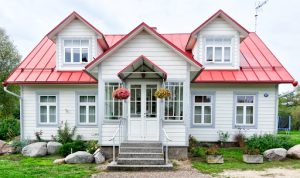 How your home looks from the outside is important when you want to sell your house. Your home needs to look appealing from the curb, to attract potential buyers. You can use some of these improvements to get your home looking its best to make it easier to sell.  
Cut Back Hedges and Shrubs 
This is one of the very simplest ways to make the outside of your house look a lot more attractive. Cut back any shrubs and hedges that have got overgrown so they look neat and tidy. Ornamental pine trees for landscaping look beautiful, but only if you keep them looking smart. A tidy front garden makes a good impression as soon as a buyer arrives. 
Put Out Planters
Buy some plant pots and fill them with some flowers or greenery. This is an easy way to add a pop of color to the front of your house. Pots by the front door look welcoming when potential buyers arrive at the property. You can use hanging baskets too.
Clean 
If your windows are grubby, then your house isn't going to appeal to anyone. Keep the windows clean to keep your house looking its best. Keep the rest of the outside clean too, by raking up fallen leaves, pressure washing the driveway, and tidying up flowerbeds. 
Paint The Front Door
Painting your front door is another way to make your house make welcoming from the road and will add some interest to the front of your house. If you're trying to sell, don't choose a color that is too out there, as it could be offputting. Look at what your neighbors have painted their doors, and choose something in a similar palette. 
Hang A Seasonal Wreath 
You might associate wreaths with Christmas, but seasonal wreaths are on-trend, and it's easy to find some very pretty ones made from seasonal plants and decorated with things like fruit, easter eggs, or Halloween decorations, depending on the time of year. 
Put Seating On The Porch
If the porch is big enough, add some seating. A porch swing, a bench, or a couple of chairs with a little table looks lovely whenever someone comes to the house and lets potential buyers picture themselves enjoying a cup of coffee out there and watching the world go by. 
Make Your Entryway Welcoming
An entryway that has been cared for makes your house look much nicer and will greet visitors. Keep your front door's paint fresh, keep the entryway clean and tidy, add some potted plants, and keep your door's hardware clean. A doormat is a good addition too. 
Add Lights
Outdoor lighting looks nice at night but can also help to make your home safer and more secure too. Automatic lights are useful when you come home in the dark to help you get to the front door without tripping, and will also put off any would-be burglars who might approach the house. Add some lamps and your house will be ready to welcome you home.