Couponing is a great way to save money. In the digital age, couponing has gone beyond just clipping coupons out of the Sunday paper (though that is still a large part of it). There are several apps now that will do most of the work for you including offering rebates and depositing cash back into your PayPal account. Some apps help you save by telling you what stores to match with which coupons on any given week to get the best deals.
6 Of The Best Couponing Apps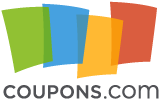 The Coupons.com app allows you to "clip" coupons by clicking on them and saving them to print later. If you have a wireless printer and a smartphone that works with wireless printing, you can print coupons directly from the app. Coupons.com also allows you to add a credit card and have offers linked to the card. When you use the linked credit card in-store, the discount is automatically applied. Online discount codes are available in the app as well.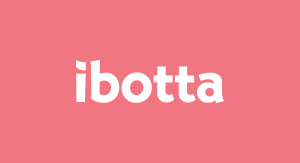 Ibotta is a rebate app that does the couponing for you. To save using Ibotta, you open the app and choose the items you would like to purchase. This is called unlocking your rebates. Sometimes there are short ads to watch or polls to complete prior to a rebate being unlocked. After you shop, purchasing the items on your list that you unlock, you scan the bar codes to verify that they are eligible for the rebate. Once the items are verified, take a picture of your receipt and submit it to Ibotta to collect your rebates. Once you have $20 or so in rebates in your account, you can cash out either for a PayPal payment or a gift card to Target, iTunes, or a number of other places. Cashing out to get a gift card may require a $22 or $25 minimum depending on the store. Within the Ibotta app, there are other opportunities to make additional money. Add friends from Facebook to create teams and whenever you all shop and submit receipts, bonus points can add up to additional rebates paid into your accounts. Making a game of it keeps things fun.
Checkout 51 is similar to Ibotta in that you shop and then submit your receipt for cash back. With Ibotta, each individual store in the app has a list of items associated with it. In the Checkout 51 app, there is a predetermined list that applies to all stores and you can shop at any store. The list is not as full as the list of items available for rebates with Ibotta, but the open option to choose the items from any store can help because some items may be found at discount stores that are not found within the Ibotta app. Once you accumulate the minimum amount required for a payout (about $20), Checkout 51 will send you a check for your rebate total.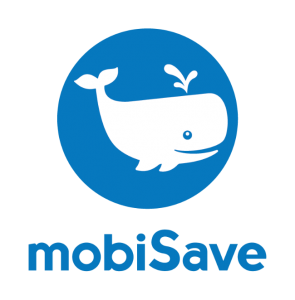 Mobisave is very much like Checkout 51. There is a preset list of items that are available for cash back rebates and you choose which ones you want to add to your list. Mobisave offers can also be claimed from any store. Once you have purchased the items on your list, take a photo of your receipt (no need to scan each item), and within 24-48 hours you will receive a cash rebate to your PayPal account. Unlike Checkout 51, there is no minimum amount needed to cash out.
Hip2Save is a couponing blog that also has its own couponing app. This is one of the best blogs to follow to learn couponing because it shows how to match coupons with the right store and the right scenarios in order to get the best deals. Besides couponing deals and advice, there are also updates on internet deals available through stores like Amazon, Jet, and Kohl's. Information is updated several times a day so it is certainly an app to check throughout the day.
KrazyCoupon Lady is also a couponing blog with a smartphone app. It is similar to Hip2Save in that both offer couponing advice and go through specific scenarios on which coupons to use at particular stores to get the best deals. KrazyCoupon Lady also gives general shopping advice and sale announcements.
Honorable Mention
Honey
Honey is a fantastic browser add-on that will save you a ton of money across thousands of sites. I personally use it on Amazon and it notifies me of better deals, often tax free, or can notify you via email when there is a price drop to the amount that you specify. I find myself only buying items I use regularly ONLY when the price drops and buy two or three of the disposable items instead of the one I wanted. However, it is often at 50% or more than the ever day price. I know I will use the products and expiration is not an issue so this is one way to save THOUSANDS.
Whether you are still learning how to be a couponer or have been doing it for years, these apps can certainly help maximize your savings. Be sure to check them out and happy saving.
If you like to shop for great deals, but do not like the hassle of clipping coupons and timing sales, then using store coupon apps may be a better option for you. In 'How to Start Couponing & Save Money' I outline how to implement a couponing system. For savers who enjoy the art of clipping coupons, this is a great way to maximize coupon savings. In this post, I focus on why store apps are a great way to save money and how to maximize savings.
Here are 5 reasons:
Automatic loading of store offers

Unlike clipping coupons, most apps allow automatic loading of store offers and possible reward points on to your account through the app. Even if you do not purchase the products that offer these discounts and points, you know that you have optimized your ability to save. I frequently shop at Superstore (similar to Kroger's) for groceries. I have set my PC Plus Points account (the app for Superstore) to automatically load all coupons and loyalty points offered once I open the app. This takes a few seconds. When I go shopping, I know that I am maximizing offers available. This makes store apps more attractive to clipping coupons as some savings may be missed with the latter approach.
Tailored coupons and offers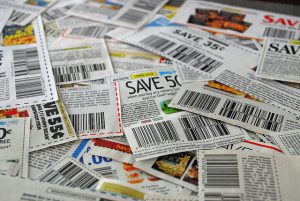 Another great feature of store apps is their ability to tailor future coupons and loyalty points offered based on previous store purchases. With each purchase the app keeps a history of your transactions and over time is able to recommend coupons and points that are right for you. Similar to YouTube, Netflix and other online accounts these apps become more ful and relevant to you as you them. This translates to more discounts, points and savings.
Options to extend offers
Some mobile store apps provide the option to extend a limited number of coupons and loyalty points offered for up to a week past the expiration date. The PC Plus app allows rs to carry forward up to three offerings at any time to the following week. Unlike clipped coupons, you are not restricted to adhere to the expiration date stated for all product offerings. This helps to maximize discounts and collect more reward points, therefore saving you more money.
Missed transactions
Have you ever gone grocery shopping only to return home and realize that you forgot to show your store app, coupons or loyalty card to the cashier? I know I have. Beca my PC Plus card is linked to my PC Plus mobile app, all transactions completed through my card are updated on my store app and vice versa. If I every miss giving my card to the cashier, I can quickly and easily enter the receipt number on my mobile app. The app then scans through all transactions and tally's points I have earned on my trip to the store, adding this amount to my running total. This saves me the hassle of returning to the store and allows me to collect my points from home.
Printed flyers
If you still prefer to browse through flyers to view great deals, many mobile store apps have this as well. My Shoppers Drugmart app (similar to CVS) also displays their most recently issued store flyer based on the nearest store location to me. The mobile layout allows me to focus on one section of the flyer at a time ensuring I do not miss any great deals. This allows me to tailor my shopping list to purchase items that have the greatest saving or offer the most loyalty points without compromising on quality or preference. This ensures I get the best deals at the stores I shop and increase savings.
How to maximize savings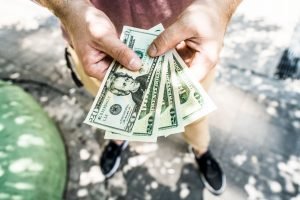 To get the most out of store apps, here are a few things to remember:
Many apps no longer require you to load offerings onto your account, but some apps do. Make sure you know which one does not and load up all savings before you shop.
For those apps that automatically load offerings, you may still need to open the app so your account can be updated with the latest deals.
Some apps take a lot of memory on your phone so be mindful of how many you download.
To get the most savings from store apps, it is better to focus on 2 to 3 stores you frequently shop.
The best app for you may depend on where you live. Some apps provide great savings in one geographical location but not necessarily in another. Find the one that maximizes savings for you.
Not every product on your shopping list will offer a discount or loyalty points. Tailor some purchases to items that maximize discounts or points. For example, before purchasing a healthy cereal, I may browse store offers to see if a particular cereal is offered at a discount or for more points. If I am happy with the alternative product, then I will purchase.
Downloading store apps is a great and hassle-free way to save money. A lot of the organizing is already built into the app, leaving you only to shop and save.
More ways to help you save some money to reach your financial goals quicker
Pay Yourself First
1. Many people will set up pre-authorized bill payments with their creditors, but fail to pay themselves first. Pay yourself first – set up automatic savings. Link your checking account to your savings account and state the amount and frequency of your savings to be transferred. Speak to your financial institution for more information on setting this up.
Stop wasting food & start using a grocery list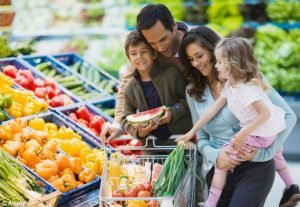 2. The average American wastes 20% or more of the groceries they purchase each month. That is equivalent to coming out of the grocery store with 5 grocery bags and leaving one of the bags in the parking lot and driving home.  The reason is, many people go out to do grocery shopping without a list.  Inevitably, we purchase more items than we need. A shopping list helps keep you focused on your current household needs; it can help you budget and foresee your spending and savings. Make a grocery list, check flyers for savings, and stick to your list.
Implement an effective weekly meal plan
3. Another great way to save some money and reduce wastage of food is to implement an effective weekly meal plan. Most North American households spend a total of one hour a day figuring out what they will eat. Meal plans not only save some money, they save plenty of time. When you plan your meals, you take off the stress of figuring out what to cook each day. Meal planning offers savings by effectively utilizing the grocery items purchased for that particular week.  Check out Cook Smarts for effective meal plan ideas.
Sign up for store reward programs
4. Some companies offer their customers the option to sign up for loyalty rewards. If you shop at a store frequently (i.e. local grocery store) you can earn a lot of reward points that can translate into savings throughout the year. For example, my husband and I spend about $540/month ($6,480/year) on groceries. From this, we receive $220-$400 during the year in savings through our grocery rewards program. That is almost a month's worth of free groceries.
Implement the 72-hour rule:
5. To keep from making impulse purchases, avoid buying an item for 72 hours. After three days, re-evaluate your desire to make the purchase. Three out of four Americans make impulse purchases with 16% of Americans spending $500 or more on a purchase. Research shows that most people make impulse purchases when they are excited (49%), bored (30%), sad (22%), angry (9%) or intoxicated (9%). By giving yourself time to evaluate the purchase, you may find that you didn't want to make the purchase and save yourself some money.
Ditch the taxi, grab an Uber
6. Taxi fares can drain your wallet, consider taking Uber the next time you go out and pay a fraction of the price. Uber charges 30%-50% less than a taxi would charge for an identical route.
Pack a lunch to work
7. According to Visa's 2015 Consumer Survey, the average American spends $2,746 per year on eating out.  It may be unrealistic to suggest never to eat out. However, let's think about this; if the average American were to spend half this amount, this would translate to a $1,373 annual savings.
Don't pay full price for group activities
8. Going out with friends is fun, but search online first before committing to pay full price. You can find great savings on online sites like Groupon that offer 10%-70% off activities and outings for two or more people.
Ditch your cable or satellite package
9. Cable and satellite packages can be costly. You can spend well over one thousand dollars a year, depending on packaged channels. There are streaming services such as Netflix and Amazon Video that offer alternative competitive programming. These services allow you to have content of your choosing at a fraction of the cost of cable or satellite. The introduction of smart televisions, and online streaming, allow you to unbundle yourself from products, services and costs you do not need. No rental equipment, no contract and affordable pricing translate into huge savings.
Switch to online financial institutions for your everyday banking needs.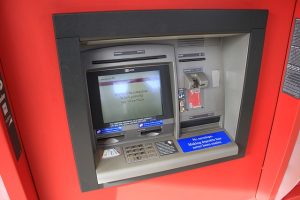 10. Online financial institutions do not charge monthly bank fees and offer similar basic services to brick and mortar banks including: chequing & savings account, mortgages, Certificate of Deposits and much more. By switching to online banking and eliminating bank fees, this can translate to a savings of up to $20 a month.
Enroll in a round up savings plan with your financial institution
11. Some financial institutions and apps offer the option to have purchases rounded up to the next dollar. The difference is then transferred to a savings/investment account automatically. Acorn app is an example of a financial tech company that offers users the ability to link their credit and debit cards to an Acorn savings account. All purchases made on linked cards are rounded up to the next dollar and the difference transferred to your Acorn account. In 2014, Acorn account users averaged a savings of $7/day through this savings program. Since Americans makes an average of 56 debit transactions a month, this is a quick and painless way to same some money.
Enroll in company matched retirement savings program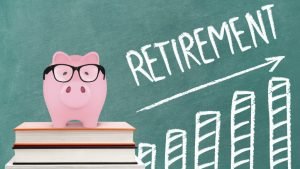 12. If you contribute $200 each month towards your retirement and your company equally matches, that $400/month would translate into $62,113 in 10 years with a moderate 5% return. Not taking advantage of company matched retirement savings program is leaving money on the table.
Many people become overwhelmed with saving money. To reduce the anxiety, start saving small amounts each month ($5, $10, $20 etc.) to build your 'savings muscle'. Then, keep saving – do not stop  just keep building on from there. Once you make it a habit to save, it will become easier to increase the amount and thereby increasing your wealth. Of course, it helps if you're also bringing more money in each month, so you have more to save. And it doesn't have to be complicated – here are our tips on how to make money online.