Housing and Utilities 

Save Some Money
Rent off campus. On campus housing is convenient but comes at a premium.
Rent an apartment and live with like minded roommates. Use this opportunity to save money and interact with like minded people.
Rent a room. Can't think of 2 or 3 people you would like to share a place with? Save yourself the hassle and rent a room.
Split the cost of utilities. Heat, water and electricity should be shared equally among roommates. If there is a general consensus that one roommate consumes more than other roommates, you can agree on splitting the bills based on usage.
Ensure each roommate will pick up their fair share of the bill. Put as many names on shared services as possible. Also, make sure each roommates name is on the rental agreement. Utility companies that provide your heat, water and electricity report your ability to pay bills on time to the credit bureau. This means that late payments will affect your credit score. To make sure everyone is encouraged to pay on time, have all roommates on the account. If the company will not allow this, then make sure each roommate has their name on at least one service. Doing this can save you from frustration, grief, a poor credit score and hundreds of dollars in late fees and penalties. It does not guarantee that everyone will pay, but at least you are assured that everyone has a steak and will suffer the same consequences if they don't contribute.
Rent a place that is all inclusive. Alternatively, you can avoid all that hassle and rent a place where internet, cable and utilities are included. If you can find a place that you like that offers this, this is the ideal situation. 
Transportation 
Avoid parking on campus. Parking fees on campus are astronomically high, even after you factor in the discount that full time students receive. See if there is free or cheaper parking a few blocks outside of campus and park there. If you have a friend that lives off campus that is not using their parking spot, ask if you can park your car on their spot while in class for free or for a small monthly fee.
Take public transit. Most post-secondary institutions include the cost of monthly public transit passes in the cost of tuition for all students. Might as well make use of it by using the transit passes.
Use the carpool services offered by other students travelling to the same location as you for the holidays. To save on the cost of bus or train fare back home for the holidays, some student who use a vehicle will put a flyer on campus offering car pooling services. Instead of paying $40-$60 one way to visit home (prices during the holidays can be even higher), each person chips in $10 to cover the cost of gas. Flyer advertises when the person will be leaving, where their final destination will be, (if you live along the way then there is usually intermediate stops) central meeting point and the drivers contact number. Whether you are the driver or passenger, this can be an effective way of saving money if you visit your family during major holidays.
Distance education courses. Although this may not be ideal for everyone, taking distance education courses can save you time and money on gas and parking. 
Food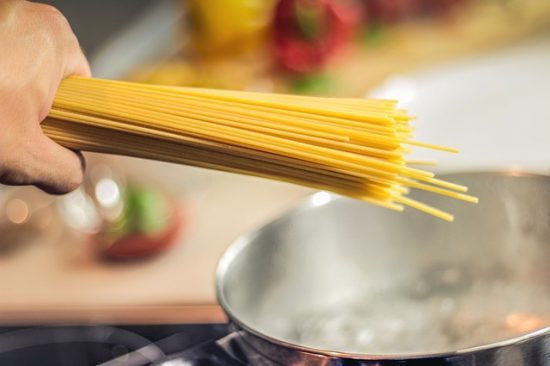 Learn how to cook a variety of meals before heading off to college. Knowing how to cook your own meals can save you a lot money. Learn how to cook a combination of pasta, rice, meats and sauces and you will be set for college.
Eat out on 'cheap' night. Most cities and towns have cheap nights for foods like wings, burgers and other finger foods. Figure out when those nights are and take advantage of these deals.
Ask for free delivery or pick up the food yourself. If you decide to order in, ask if they will offer free delivery if you order over a certain amount. If you live with roommates who are willing to split the cost, this should not be hard to achieve. Alternatively, you could pick up the food yourself.
Cook on the weekend and freeze your food. Let's face it, even if you know how to cook, you may not be able to find the time during the week. If you like variety and want to save money, allocate a day where you can dedicate 4-6 hours cooking your meals for the following week. Freeze these foods for the week ahead. To avoid rice and pasta spoiling, avoid cooking these too far in advance as they do not freeze well. Meats, sauces and stews however are great for cooking and freezing in advance. 
Other expenses 
Buy used books. Either at the book store or online.
Set an academic schedule to graduate on time. The average student will complete a 4-year degree in 5 years. That is an entire year's tuition fees down the drain.
Drop or switch classes within the first 2 days of attending. Whether it's the instructor, the material, or the total workload you can't handle, the sooner you know that you don't want to be enrolled in a particular class, the more money you will save. Most post-secondary institutions will let you switch classes within the first few weeks at no cost, but if you decide to drop a class, you are losing money each day you are enrolled.
Use reviews that rate professors or ask around before enrolling into a course. Use sites like Rate My Professors to get reviews on different instructors before enrolling into a course. Every instructor has their own teaching style and some are better than others. You should also ask your fellow peers about a particular instructor. This can save you from having to drop classes midway through the course and losing your money.
Use your student discount cards. Many post-secondary institutions offer full time students a student discount cards which provides discounts at select retail stores in the area. Discounts can range from 5%-20% depending on the store.
Free banking services. Be sure to update your financial institution each year with your full time student status so you can receive free banking services on most basic banking transactions. That is a $10-$30 savings each month.

Latest posts by The Saving Gal
(see all)