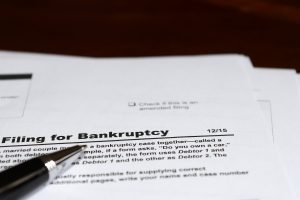 When you are overwhelmed with debts, personal bankruptcy could be the solution to your problems. The most common types include Chapter 13 and Chapter 7, but the latter is quick and simple. Before you declare bankruptcy, you need to be confident that your situation warrants you to do so since this is often an intricate and time-consuming process. Here are 6 sign it might be time for you to declare bankruptcy.
You are using your Credit Card for Your Everyday Necessities
Consistently using your credit card to buy the everyday necessities such as groceries or gas because you do not have cash is a clear sign that you are on a downward spiral as far as your financial situation is concerned. A lot of people use their credit cards because most of their money is used to pay debts.  This kind of pattern makes your situation even more complicated because the interest makes your total debt to increase. If you are the type who uses their credit card on everyday necessities, then it could be the right time to consider filing for bankruptcy.
Paying Your Credit Card with Another
Using one credit card to settle the debt of another is a stalling tactic and does not in any way reduce your debt. If you have done this once, then it isn't necessarily a sign to watch out for. However, if that happens with you on a regular basis, your debt will definitely increase. Persistence of debts will mean you need to consider filing for bankruptcy.
Your Income Does Not Increase
Ideally, your level of income should increase with lifestyle expenses, but this is not hardly the case today. For those permanently employed, unless they get a big raise or significant inheritance, chances are they will continue grappling with debts even as their paychecks come in. If you feel you are in this kind of situation, then perhaps the time has come for you to consider bankruptcy.
A Lawsuit has been Filed Against You
This is the kind of scenario that many individuals try to prevent by seeking help from attorneys before things get worse. However, it won't be long when a person takes you to court to get back what you owe them. In case that happens, make sure you seek help from an attorney. You can learn more about bankruptcy by visiting https://ezoklahomabankruptcy.com/.
You are Working More than One Job
Getting an extra income usually gets a person out of their debt situation. If taking an extra job does not seem to help with your debts and bills, it's time to consider other extreme measures like declaring bankruptcy.
Your Bills Are Paid Late
If you constantly pay your bills late, then chances are you are in a financial crisis. Paying bills late will incur serious penalties which could end up increasing your debt further and damaging your credit score. Late bill payment could be a delinquent medical bills, late credit card payment, or even late payment of student loan.
Final word
When you notice all these signs pointing toward bankruptcy, you need to seek legal assistance. Do not wait until the situation gets out of hand and you can no longer settle your bills to take action. Begin the process of bankruptcy early since this can be an intricate and time-consuming process.