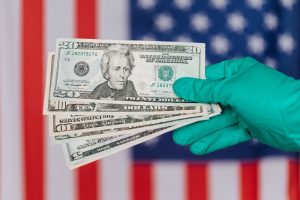 If you've paid any attention to politics over the past couple of years, then the idea of medical debt and medical bankruptcies shouldn't be anything new to you. Medical bills are one of the leading causes of life-changing debt in the country at the moment and the debate rages on about the best way to solve this issue. Until then, however, you need to know what steps you can take to protect yourself from it.
Insurance is essential
The one barrier protecting most people from serious medical debt is health insurance. However, most people get their health insurance through their employer, so if you're a young entrepreneur or business owner, you need to find your own provisions, which can be tough. However, there are various ways to cut the costs of your health care, often by picking the right health care coverage that you can afford and making sure you're not getting more cover than you need. For a lot of people, there simply isn't any way around getting the insurance you need.
Have some funding at the ready
Even if you do have insurance, you're going to need to be able to pay out a co-pay immediately, if you don't have to pay the full brunt of the bill. For a lot of people working with the average person's cash flow, this sudden need for money can put you in a panic. As such, it's worth looking at health savings accounts. HSAs are specially designed high-interest and tax-free accounts that allow you to save more competitive than many private savings accounts. The only catch is that all money saved in the account has to be used for medical expenses.
Protecting your rights
When it comes to accidents and injuries that are not your fault, then it's important to make sure that you're not being saddled with a bill that someone else should pay. Legally, if someone else can be found responsible, they should be paying for all of your medical treatments, if not damages on top of it. With an accident attorney to represent your case, you can make sure you get the justice that you need and avoid those hefty medical bills at the same time. Make sure you have someone to help your case, as it's all too easy for a layman to mess up a legal claim.
Make sure you're not getting overcharged
Medical billing is notoriously rife with overcharging and errors. Some of these can be accidental, such as mistaken inputs when it comes to personal and insurance details. Others can be the result of the intentional overcharging from the hospital. However, aside from inspecting your bills carefully, you can negotiate the costs of your health care. You might not be able to cut it in half or anywhere close, but you can make it more manageable.
We can only hope that, in the future, medical debt is not a plausible concern for the majority of people. For now, however, we need to look at solutions we can put into action right now. Hopefully, the tips above help.