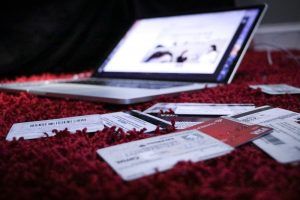 Whether small or significant, debt is something that affects everybody. It could be credit card debt left-over from last month, or it could be student loans that have haunted you ever since you left college. Whatever it is, it is never fun being in debt, and it's a cloud that can feel suffocating. Many people feel like they cannot even start their life properly until they get out of debt. While it might feel impossible, everyone is capable of escaping debt, and here are a few suggestions on how to get started. 
Make a List Of Everything 
You can't expect to escape debt if you don't know what money you owe and where you owe it. The first typing you should do is make a list of everything you owe and the institutions you owe them to. This list should include details about how long you have owed and the interest rates to give you a long-term idea of how much you still need to pay off. What you see might be surprising, and it could change your approach when choosing a credit card in the future so you can avoid getting into this situation again. 
Speak to Professionals 
Professional help is always available for people struggling with their finances. Services such as the Canyon Legal Group understand a range of unique situations, and this makes them more than equipped to assist you in getting out of debt. While they won't be able to provide a loan to pay off your balance, they can advise on which approaches will work best for your situation and this can help you avoid defaulting on payments or, even worse, getting items repossessed. 
Create and Stick To a Budget 
Creating a budget that actually works can be tricky, especially if you've spent most of your life spending money whenever, wherever, without much thought for the consequences. But, creating this budget is crucial you want to escape your debt. As you've already made a list, you know how much money you need to put aside each month to put towards the minimum payment at least. This gives you a solid foundation to build on and will ensure you are more careful with your spending as you slowly chip away at your debt. 
Cut Back On Luxuries 
Everybody has those luxuries that they feel they cannot live without. But, if you are going to pay off your debt, you must determine the difference between needs and wants. Understanding that your internet connection is a need, but your expensive cable subscription is a want is the first step towards finding enough money to pay off your debt. The more sacrifices you make now, the faster you will be able to pay off your debts, and this means you will be able to enjoy these luxuries again without the shadow of debt looming large. 
Summing Up 
Everyone's debt is different, and that's why there is no catch-all solution for escaping debt. However, there are a few tried and tested approaches that can help you on your way to financial stability and allow you to start living your life the way you want to.