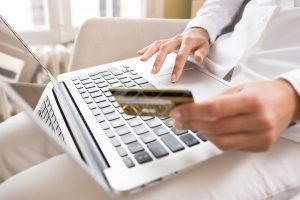 Whether you're looking for your first credit card or your tenth credit card, the incredible number of different credit cards available can easily confuse anyone. Should I get a low interest rate credit card or should I get a credit card with cash back? Should I get a credit card with an annual fee that is made of metal or should I stick with a basic plastic credit cards with no annual fee?
The answers to these questions will differ from person to person. Thankfully, you can learn how to evaluate which credit card is best for you. Consider the following when getting a credit card. You'll end up in much better shape than the person that simply applies for whatever credit card offer appears in their mailbox.
How Do You Plan to Use Your Credit Card
The very first thing you should consider when choosing a credit card is what you plan to do with the card. If you're like me, you plan to earn as many rewards points as possible without paying a penny in interest or fees. However, others may want to transfer a balance using an introductory 0% interest balance transfer credit card. Some people prefer to put a large purchase on an introductory 0% purchase interest rate credit card. Another person may simply want a low interest rate card in case they need to carry a balance from time to time.
No matter why you're considering opening a new credit card, it is important to know why you're opening the card. There are hundreds, if not thousands, of different credit cards to choose from. Many cards offer the same basic services. These often include making purchases, offering balance transfers, cash advances and offering rewards points. That said, it is important to realize different credit cards specialize in different things. You'll need to match your specific needs with the credit card that best fits those needs.
The Ideal Way to Use a Credit Card
In an ideal world, you'd use a credit card for the benefits and rewards. You'd never carry a balance. You'd never pay interest and you'd only pay the annual fee if you earn more from the card than the annual fee costs. Unfortunately, we don't live in an ideal world.
Other great uses for credit cards include using them to save money on interest. Often, this means using a card with introductory 0% APR balance transfer promotions or an introductory 0% APR on purchases promotion. The key is only using them for items you plan to pay off in full. Then, you can leave your cash in the bank to earn a little bit of interest.
Look at Interest Rates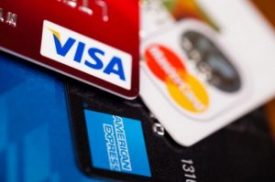 In an ideal world you wouldn't have to worry about interest rates because you'd never pay interest on any credit card transaction. That said, it never hurts to be prepared should something happen. Sometimes you need to leave a balance on your credit card.
When you're considering credit cards, you should always take a look at the rate and fee information document. Sometimes it is called the application terms. In this document you'll find many interest rates that should be of interest to you. You normally find this information in the fine print of a mailer offer or by clicking a link on an application page. Look for the APR for purchases and balance transfers. You'll find an APR for cash advances, too. The terms will state when you will pay interest for different types of transactions.
You'll notice many cards offer a range of rates. The rate you receive will be based on the information in your application and your creditworthiness.
Make sure you look at this information carefully. Then, compare the terms between any cards you may be considering. If you know you'll probably carry a balance, try to find a card that will offer you the lowest interest rate possible. Earning 2% cash back won't matter if you're paying 19.99% on the purchases you don't pay off in full.
Look at Fees
Fees are another important area to consider when choosing a credit card. While many cards only have a few fees, some cards, like secured credit cards, have many more. Make sure you consider annual fees, additional card fees, cash advance fees, balance transfer fees, foreign transaction fees, late payment fees and returned payment fees.
The above fees are the most common, but some cards have even more fees. You could run into replacement card fees, charges to reissue statements, expedited payment fees, stop payment fees, credit line increase fees, upgrade fees, reinstatement fees and other payment fees depending on your method of payment.
It's important to remember how you'll use the card when looking at fees. Only compare the fees you'll actually get charged, not the laundry list of other fees you'll never encounter.
Look at Rewards
Rewards are one of my favorite things about credit cards. Depending on the card, you can earn rewards in many ways. You can earn rewards for every dollar spent, bonus rewards for spending a certain amount during the first few months of card membership, bonus rewards for rotating bonus categories and some cards even double your rewards during the first year.
The key to choosing the credit card with the best rewards is knowing where you spend your money. You must know how you want to redeem your rewards, as well. When choosing a card, calculate how many points you'll earn by putting your regular spending on the card. The card with the highest point value after fees is likely the best card for you.
However, here is a quick warning about rewards credit cards. Because these cards offer rewards, they usually charge higher interest rates and fees than non-rewards cards. If you're going to carry a balance, I suggest avoiding most rewards cards. Why? You'll pay more in interest than you'll earn in rewards.
Look at Rewards Redemption Options
Of course, earning points is useless if you can't redeem them for anything you'll use. While some cards allow you to redeem rewards for cash back, others may only offer you the best value for your points if you redeem your points for travel purchases. Look into the redemption options before you sign up for a card. Make sure you'll really get the value you think you're getting out of the rewards you earn. If you can't find this information on the card's website, you can likely find it through Google. Another option is calling the card's application phone number and asking a representative.
Look at Other Benefits
Surprisingly, rewards aren't the only benefit many credit cards offer. Depending on the card, you may qualify for special Visa, MasterCard or American Express benefits. Benefits do vary from card to card, so make sure to read the additional benefits booklet. You can usually access this on the application website before applying for a card. Worst case, you'll get the benefits information in the mail when your credit card arrives.
The benefits offered on credit cards can be a gold mine. You just have to know about them and how to use them. Many cards offer extended warranties, purchase protection against broken or stolen items, trip delay insurance, lost baggage insurance, roadside assistance, concierge services, fraud protection, return protection or price protection just to name a few. Just make sure you meet the requirements and time frames that are associated with each benefit.
Pick the Card that Fits Your Situation
Based on your research, you should have a pretty good idea what is most important to you. If you plan on carrying a balance, the interest rate and fees are likely most important. If you plan on earning rewards and paying your balance off in full each month, you'll probably focus more on rewards earning rates and sign up bonuses.
Whatever you do, don't convince yourself you're suddenly going to change how you use credit cards. If you know you'll end up carrying a balance, getting a rewards card with the hope you won't carry a balance is a fast way to pay more money in interest than you need to.
You Can Have More Than One Card for Different Situations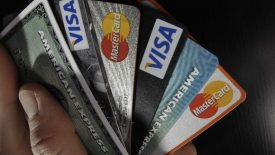 As long as you don't have a habit of maxing out your credit cards, it is important to note you can have more than one credit card. In fact, it often makes sense to have different credit cards for different situations. For instance, you may have a cash rewards credit card that pays two percent cash back for your everyday purchases. Then, you could have another card with no foreign transaction fees for when you travel overseas. You can also have a low interest rate credit card for the worst case scenario when you need to carry a balance.
Don't Forget the Dangers of Credit Cards
Don't forget, credit cards can be very dangerous. If you have a habit of running up a balance you can't pay off, you could very well be better off by having no credit cards at all. In the end, it's up to you to know yourself and how you'll use your credit cards. If you feel like you've changed your ways and want to try using a credit card again, ask for a low credit limit on your first credit card. That way if things get out of hand, they can't go too far out of control.
Picking a new credit card can be a lot of fun, especially if you have your spending under control. You can earn hundreds of dollars in rewards and take advantage of benefits that many people don't even know about it. Just make sure you are using credit cards as a tool and not a way to spend more than you earn.