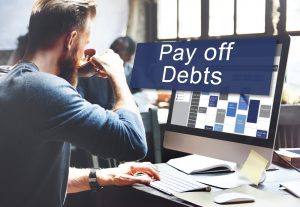 In 2018 it was estimated that the American households carry a whopping $13.21 trillion in debt, and it's unlikely that the number has gone down.
Whether you're dealing with student loans or have a few nearly maxed out credit cards, being in debt can be stressful. You're going to want to do whatever you can to get out of debt so you can start meeting your own personal financial goals.
Talking about getting out of debt is a lot easier than actually doing it. That's why we're going to give you helpful debt reduction tips so you can pay off what you owe as fast as possible.
If you find yourself in debt, make sure you follow these 8 tips so you can get out of it once and for all.
1. Come Clean
Some people are very aware that they're in debt, but they don't really know exactly how much they owe.
It may be difficult or embarrassing to do, but you need to do what you can to understand exactly how much you owe on each account, and what you'll need to pay to get completely out of debt.
Collect all of your account statements for the month, then take time to calculate the total amount of all your debts, their interest rates, the minimum monthly payment amounts, and when each payment is due.
Once you have that figured out, you can do a little math to see how long it'll take to pay off each debt if you only pay the minimum amount.
Doing all of that math can help give you a true picture of the debt you're in. You'll be able to better strategize the best way to finally get out of debt.
You may also find that taking away the mystery of what you owe can help you feel better overall. It's even possible that you may find that you don't need to be in debt for long.
2. Stop Creating More Debt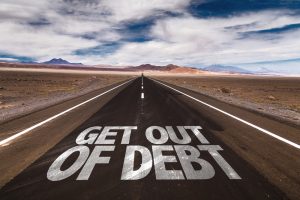 This may seem like an obvious step for some people, and for others, it may seem like something that's impossible to do at this point. Regardless of where you stand on this issue, you need to do whatever you can to stop creating more debt for yourself.
Don't take out any more credit cards even if the introductory offers seem fantastic. You should also resist the temptation of using cards you've already paid down some of the debt on.
In the past, people would cut up credit cards they didn't want to use anymore, but that tactic may not work as well if you make a lot of purchases online.
Instead of cutting up your credit cards, remove the saved information from your favorite stores. Only keep the payment app on your phone so you can keep making timely payments.
3. Build an Emergency Fund

When you're struggling to pay your bills and get out of debt at the same time, it may seem impossible to save any money. The truth is that having an emergency fund can help you stay out of debt if anything comes up.
Most people don't get into debt because they spend recklessly. They end up in debt because they keep finding themselves in situations that they can't afford with the funds they have on hand.
Maybe your car ends breaks down by the side of the road and you need to find a way to pay for a tow or repair. Or maybe your washing machine breaks or your roof leaks and you need to find the money for a repairman as fast as you can.
If you have an emergency fund already started, you won't have to worry about finding money to deal with emergency situations. It'll be there waiting for you, and you won't have to worry about taking out loans or a new credit card to cover costs.
4. Strategically Pay Above the Minimum Payment
Paying the minimum payment can help keep collection agencies off your back, but it doesn't do much to help you get out of debt. If you want to get out of debt once and for all, you need to pay above the minimum payment.
Adding an extra $20 to your credit card payment can do a bit to help you get out of debt faster, but putting a little strategy behind your payment amounts can help get you out of debt fast.
You may consider using the debt snowball method to pay down your debts.
When you use this method, you focus on paying off the debt that has the smallest total balance. You'll be able to pay it off quickly and start freeing up funds to focus on the next-smallest debt you have in your name.
Another helpful method is the debt avalanche. You focus on paying off the debt with the highest interest rate first. This strategy can help you save the most money in the long run, but it'll take longer to pay off all of your debt.
5. Find a Side Hustle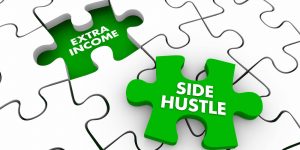 Putting extra money towards your minimum payments is one thing, but finding the money for it is quite another.
You may get lucky and be due for a promotion and pay raise, but if you're hurting for extra money to pay your debt, you may want to consider finding a different way to earn income.
Finding a second full-time or part-time job can be helpful, but everyone doesn't have the time to pick up an extra shift as a hemp processor or cashier during the week.
Instead of getting a second job, consider getting a side hustle you can do for a few hours a week. You can dedicate the money you earn in this job solely to paying off your debt.
Driving for a ride-sharing app has become a popular way for people to earn extra money, but it isn't the only way. There are plenty of ways to make money when you're on the couch after work.
Consider spending some time on a site like Fiverr. You can earn a little extra money for doing simple tasks like writing product reviews or testing out features on an app.
6. Consolidate
Do you have multiple credit cards with the same company? Are you struggling to pay multiple state or federal student loans?
If you're having trouble paying off your debt, consolidating what you have could be the key to getting out of the red and into the black again.
Instead of making several smaller payments with different interest rates attached, you can focus on making one large payment. When you do this you don't have to worry about paying a lot of extra interest and could even have an overall lower interest rate.
7. Talk to Your Debtors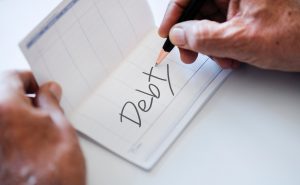 Have you ever heard of the phrase ask and you shall receive? It may be an old phrase, but it does have some meaning when you're trying to pay off debt.
When was the last time you spoke to someone about your debt? This may come as a surprise, but you may be able to negotiate better interest rates or even get a slightly lower monthly payment by simply calling and asking someone.
Before you hop on the phone, prepare yourself with some information that could work in your favor.
Have you recently fallen on hard times? Losing your job or having your hours severely reduced could be a qualifying event for forbearance on some of your debt.
Are you diligent about making your monthly payments? Your good payment record could qualify you for a better interest rate. Sometimes even just having an account with someone for a long time could help your case.
The important thing to keep in mind is that you won't know until you ask. Even if you don't think you'll be able to get something, don't be afraid to ask.
8. Talk a Professional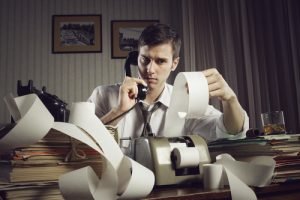 Do you constantly find yourself struggling to pay for different bills? Are you convinced that you're going to find yourself in debt again after you spend time paying everything off?
Even the best debt reduction techniques can't help bad spending habits. If you find yourself struggling with money, talking to a financial advisor can help.
They can help you rethink the way you handle money, and can help you find better ways to spend and save.
Go Beyond Debt Reduction Tips
Being in a lot of debt can make it hard to achieve your financial goals, but if you follow the debt reduction tips we mentioned in this post, you'll be well on your way to finally being debt-free for good.
Are you looking for other helpful financial advice? We have a lot of informative content on our website. Be sure to browse all of our posts so you can find the advice you're looking for.