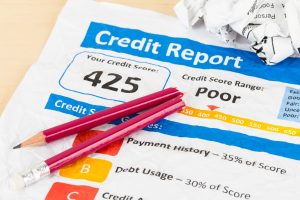 Imagine this: You're sitting at a dealership in the final moments before you close the deal on the new car you've had your eye on for 3 months. The dealer walks over, and it feels like an hour passed since they left the financial desk across the hall. He says, "We can't make that vehicle work—your credit score is too low."
That's one of the most painful things to hear. You pack up and head home, wondering if you can improve your financial problems.
There's some good news for you: You can! Keep reading to find out how.
Your Credit Score and You
You may know about your credit score and its effect, but your score can also hinder you in areas you may not know.
For example, utility companies can require high dollar deposits to start a service.
Did you know that your credit score can also affect the insurance you were about to put on that new car? That's correct, and a better score can lead to lower insurance payments.
Maybe you were also in the market to move to a new apartment. Well, if your score is too low, you might not be able to get into a quality place.
Finally, some employers may run your credit, and while they can't decline you for credit alone, it may push their decision in the wrong way.
What Is Bad Credit?
When you're trying to improve your credit score, it helps to know where you stand and how it relates to your purchasing power.
It's important to understand that there are different platforms for credit reporting. Each one giving a slightly different score on their report.
Generally speaking, though, a bad credit score is anything under 600. It may be hard to get a loan at this range, and if you do, it'll have high rates.
If you want to know more about the different reporting agencies and how they label score ranges, visit this article.
Benefits to Fixing Your Credit
Having good credit gives you access to various borrowing options. It also gives you some insight into managing your finances better.
Managing your credit score and finances will have the added benefit of setting you up for success throughout your life, as well as giving you some extra money in your pocket.
How to Fix Those Financial Problems
If you really want to have a great score and all the perks that come with it, it might be time to look at your financial management skills.
The following are some of the quickest ways to improve your score:
making sure that you pay your bills on time
lowering your credit card utilization
paying any past due bills
If you want a more detailed guide on fixing your credit, check out this article: "Improve Credit Score: Tips to Fix Poor Credit & Raise Your FICO Score".
Financial Success Is a Click Away
You can always find up-to-date articles and information about the best way to fix any financial problems right here.
If you thought this article was helpful, check out the articles in our invest your money section.