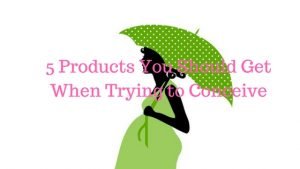 Whether you just started trying to get pregnant, or you have been trying for a while now, there are a few products that can help you and your spouse along the way. These products cannot solve infertility related issues, but they could increase your chances of conceiving sooner if there are no ovulation or infertility issues between both spouses. Check out these tips for starting your family:
Pre-seed
Pre-seed is a clinically chosen fertility lubricant that helps support the sperm and mimics a women fertile fluids. It is important to get lubricants specific for conception as other lubricants can contain ingredients that harm the sperm, making them not viable for fertilization. There are so many benefits to using pre-seed including:
You don't have to use that much to get a lasting effect. For most women, only a small amount of the pre-seed lubricant is sufficient for intercourse.
It truly does mimic your own fluids. Many other lubricants can feel oily and significantly reduce all the friction needed to make intercourse pleasurable. Pre-seed allows for lubrication and friction if used properly.
Reasonably priced and lasts a long time. Depending on where you buy the pre-seed, the costs can range anywhere from $22-$35 per box. Check out Walmart, eBay and Amazon for competitive pricing.
Each pre-seed pack comes with applicators. The most commonly purchased size comes with 9 applicators or plastic syringe which you can use to transfer the lubricant straight from the tube up into the cervix. This ensures a majority of lubricant goes where it needs to be and the syringe helps to minimize contamination. You can also use the lube and apply it topically with your fingers.
Ovia Fertility App:
Most women know the best time to maximize their chances of naturally conceiving a baby is during their ovulation window, which is typically 1-2 days during a women's cycle, with one day being the 'ovulation day'. Ovulation occurs when the egg moves from the ovaries into the fallopian tube and is ready for fertilization. In order for ovulation to successfully occur there needs to be a balance of the right hormones at the right time.
Timing ovulation can be tricky if not managed correctly. Also, some women are more receptive to spotting small changes in their body, which allow them to detect ovulation, while others may not be. Luckily ovulation kits and apps can help most women time their ovulation window and track it accurately.
Best Free App
The best free app on the market and one many fertility specialists recommend is the Ovia Fertility Tracker & Ovulation Calculator. This app has a 4.9 rating and has well over one million downloads with more than 90% of the reviews at a 5 star rating. Some of the reasons that makes this app great is:
It's free. Not only does this app provide useful and fairly accurate information about your cycle, it's also 100% free to use.
A monthly calendar showing your ovulation window and dates in which you will likely get your menstruation. The app becomes more accurate as you add more information about your cycle.
A fertility chart showing your peak fertility window in the form of a line graph.
Cycle insights which provides useful information that your family doctor and fertility specialist may ask you about your menstrual cycle and accurate information ensures proper diagnosis. This information includes: the length of your cycle, your period length, luteal length and fertile window, peak ovulation day during your entire cycle. These are average numbers which are updated on a monthly basis so new information provided each month will increase the accuracy of the information.
Useful articles and information on fertility to help couples grow their knowledge.
The more information you provide the app, the more accurate the app can predict your ovulation window, day, menstruation dates and the length of your menstrual cycle. If you are not able to determine when you ovulate through natural methods (i.e. basal temperature and vaginal mucous fluid), use the sticks for the first few months to accurately test your hormone levels. Record everything on your Ovia app. After a few months of using the ovulation sticks, you may be able to approximate your ovulation day and without having to spend money buying the tests. To maximize your chances of conceiving, try and have intercourse as many times during your window, because sperm can last in the women's body for up to 2 days, there is a good chance for the eggs and sperm fertilizing on ovulation day.
Digital Ovulation kit
When it comes to ovulation kits, you want to make sure you are spending a bit of money to get the top quality brand that is well known and highly recommended. Knowing your ovulation window each month is critical to a successful pregnancy.
I highly recommend using digital ovulation kits like Clear Blue Digital Ovulation Test or Clear Blue Advanced Digital Ovulation Test. Clear Blue products are so easy to use and there results are clear without any confusion.
I would avoid getting non-digital ovulation sticks where you pee on the stick and have to decipher whether the two lines appear confirming that you are ovulating. Although these sticks are much cheaper than the digital test kits, trying to figure out whether both lines are showing and how strongly these lines appear may be difficult and cause inaccurate readings. Also, the sensitivity levels of these stick compared to the digital ones are not as powerful which can create false readings, making some women believe they are not ovulating when they really are. Without ovulation, pregnancy cannot occur and having a false reading when you are perfectly healthy can be a really disheartening feeling at a time when many emotions are at play. Fork over some extra bucks and get the digital ovulation kit, this is not the time to be cheap.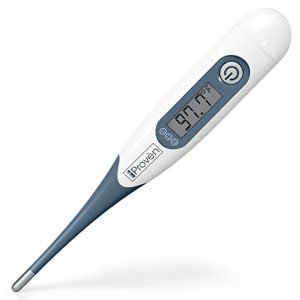 Paying for ovulation kits each month can get expensive, especially when you are first trying to conceive and are not sure of your menstrual cycle, how long it lasts and when you ovulate. You many which to use the digital ovulation kits to get an idea of your cycle and when you ovulate the first couple of months. Once you have narrowed this down, and if you are still not yet pregnant, using a digital thermometer to track your basal temperature and charting this information can save you money.
Your basal body temperature is your lowest body temperature in a 24 hour period. Before ovulation your BBT may range from 97.2 to 97.7 Fahrenheit. However, the day after you ovulate, your BBT should increase by 0.5 to 1 Fahrenheit.
Some things to remember when using basal temperature to track and chart your ovulation are as follows:
Many doctors recommend putting the digital thermometer in your mouth to get your basal body temperature.
To be most effective, your temperature should be taken immediately when you wake up, before even getting out of bed. Keep your digital thermometer by your night stand and take your temperature immediately. A lot of movement like turning to kiss your partner, getting some water or brushing your teeth will elevate your basal body temperature and may give you a false reading.
Charting BBT
Finally, it is important to note that although charting your BBT is more cost effective than purchasing digital ovulation sticks, digital ovulation sticks provide a more accurate measure of ovulation because:
These sticks track hormone levels, most notably FSH (follicle stimulating) and LH (luteinizing) hormones, needed in proper ovulation. These hormones can start to peak at least 2 days before you actually ovulate which can afford you and your partner many opportunities for intercourse before and after your ovulate. Since sperm can survive in the female body for up to 48 hours, intercourse prior to ovulation during this 2 day window can lead to a successful pregnancy.
Your BBT however peaks after you ovulate, which means the window in which you are most likely to successfully conceive is narrowed to your ovulation date. Although women have gone on to conceive a baby after their ovulation day, the probability diminishes with each passing day.
Pregnancy kit
After you have times intercourse with your ovulation window, you may be anxious to find out if you are pregnant. Kits there are good quality pregnancy tests and poor quality pregnancy tests. However, unlike the kits, pregnancy tests are not nearly as expensive so you can opt for a higher quality brand like the Clear Blue Digital Pregnancy Test. Many women also like to request a pregnancy test to be completed by a clinical laboratory authorized by their family doctor. Alternatively, you can also wait and see if you miss your period before testing. A missed period increases the likelihood of pregnancy.