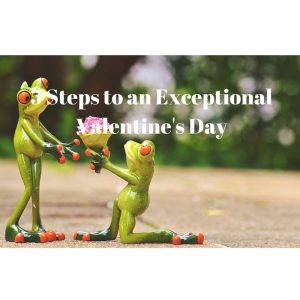 Valentine's Day is soon approaching and whether you embrace this day and wait for it with anticipation, or roll your eyes at every googly eyed couple that exchanges a kiss, Feb 14 is coming soon. Valentine's Day can be a great time to express your love and affection to the one's you love.
5 Love Languages
In a previous article, How to Save Money on Valentine's Day, I mentioned a popular book called the 5 Love Languages: The Secret to Love that Lasts by Gary Chapman. I briefly talked about how you can use Gary's book to learn more about yourself, your partner and how to show them you love them in their love language. Before I expand further I want to mention that Gary Chapman has a series of Love Language books that don't just focus on couples, but also looks at other relationships. Some of his books in this series include: A Teen's Guide to the 5 Love Languages, 5 Love Languages for Men, Discovering the 5 Love Languages at School, 5 Languages of Appreciation in the Workplace, 5 Love Languages Singles edition etc.
Valentine's Day
In this article I discuss how to plan the best Valentine's Day for your significant other or special person in your life that will focus on their love language, make them feel loved and appreciated, and make you feel good about being able to do something special for them. Cause let's face it, that is what Valentine's Day is all about, right? Going out of your way to make the other person feel special and loved. Disclaimer time, I am not a psychologist, psychiatrist nor do I claim to be giving you relationship advice. I simply want to share with you what I learned after years of celebrating Valentine's Day the wrong way with my husband and partner of 10 years and how we finally got it right. Our last 3 Valentine's Day celebrations were wonderful, but we needed to understand how we expressed love first before we could make the day special for each other. The suggestions I will share can be used at any day of the year, but I thought it was appropriate to share them for Valentine's Day.
Step 1: Take the quiz
I highly recommend you borrow or buy the book The 5 Love Languages and have a read. It is a very practical and easy to read book.  If you are in a relationship and looking to make it better, then the 5 Love Languages: The Secret to Love that Lasts is a great start.
If you don't have time or aren't interested in reading the book, but are curious about what your love language is, then be sure to take the official free 5 Love Languages quiz here. It is important to take the quiz so you know what your 2 dominant love languages are.
Your love language is the way you feel most loved by the other person. Many times people in a relationship will have different love languages and ways they would like to be shown love. The problem arises because we express our love the way we would like to receive it, which is usually different from our significant other. There are 5 major love languages and it is not uncommon to have 2 dominant love languages at a time. Here are the 5 love languages:
Words of affirmation
Using uplifting and encouraging words to affirm other people and make them feel good. People that have words of affirmation as one of their dominant love language value praise, verbal recognition, and positive words.
Acts of service
For these people, actions speak louder than words. They appreciate people doing things for them to help them lighten their load, whether its running errands, cleaning the house etc. Words are nice, but they feel most loved when you lend a hand.
Receiving Gifts
people that have receiving gifts as their dominant love language enjoy being surprised by their loved one with a special token from the heart. It is not the size or value of the gift that matters as much as taking the time to express their love through a small token.
Quality time
if quality time is a dominant love language for you then you value one on one uninterrupted time with your significant other above anything else. You may or may not be doing anything super exciting, but just sharing a conversation where you are both attentive to each other means more to you than anything else.
Physical touch
if physical touch is your love language, then you enjoy holding hands in pubic, when your partner rubs your back for no reason, or strokes your hair unexpectedly. It's the little small touches that you really appreciate and make you feel truly loved.
Step 2: Have your partner take the quiz
Have your spouse of significant other take the test as well. Feeling loved requires participation from both partners, so if your spouse is up for it, have them take the test as well to discover what their love language is.
Step 3: Share what you learned
Share what your two dominant love languages are based on the quiz, from reading the book, or both. This information should not be a secret. By telling your partner what your two dominant love languages are, they will be able to work towards making you feel loved in a way you appreciate the most. In exchange, you can do the same for them to ensure a well balanced relationship.
When my husband and I took the test, these were our 2 dominant love languages and how it has changed how we express love for each throughout the years:

Step 4: Think of ways you can implement these changes for each day including Valentine's Day
Getting to understand your partners love language takes time, at least it did for my husband and I. However, knowing their two dominant love languages is the first step. Finding ways to express this so they feel loved is the second.
Depending on your specific situation, this will be unique to each couple but here are some suggestions of special things to do to show your partner you love them based on their love language. It is also important to mention that people don't just feel loved overnight so repetition is key. Be sure to find ways to express your partners love language on a regular basis.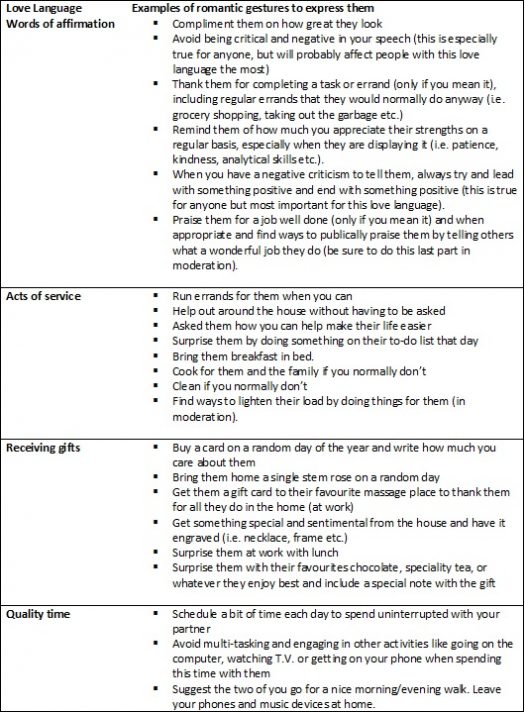 Plan 5: Plan your Valentine's Day & each day of the year around their love language
Once you know your partner's love language, you can find creative ways to plan your Valentine's Day that will make them feel loved and possibly save you some money.
Contrary to what society and marketers want to tell us, not everyone needs a box of chocolates, flowers and a gift on Valentine's Day to feel loved. Once my husband and I knew our dominant love languages, here is what we started (or stopped) doing on Valentines Day:
We stopped getting each other gifts on Valentine's Day. Why? Because we both scored the lowest on gifts as our love language. We only get each other gifts twice a year, on our birthdays and wedding anniversary. That works for both of us.
I asked my husband to stop getting me flowers and chocolates on Valentines Day. Why? Because I have killed almost every plant I have had and I would rather spend that money ordering in or going out to a nice restaurant where we can spend some quality time. The best Valentine's Day we've had was when my husband cooked the entire Valentine's meal (acts of service, because I normally do the cooking), then we enjoyed the dinner at home while talking, laughing and playing board games (quality time)
I put a lot more thought into the words I write on cards I give my husband, know that words mean a lot to him so I spend a good amount of time constructing a thoughtful note or letter to go with my card.
I find small ways to show him I care through physical touch.
Expressing your partners love is not reserved for Valentine's Day, but for each day of the year. Find small and big ways to show the one you love how much you love them.