Customers are to be seen and treated as individuals. It's hard to get that through to some people but seriously, it really does matter. Yes some things do connect people into groups and it's sometimes easier and more financially suitable to aim with a wide net. However when it comes to keeping customers locked onto your website, appreciating what you have to offer in the way of user experience, you must do certain things. Firstly, you have to think of yourself as an individual business too. Customers will feel it in their bones when you are trying to be just like every other business out there. It's boring, done too much and doesn't inspire confidence in your ability to attract their attention regularly. Grab and hold is the ethos you need to implement. But just how does that go?
Big sales, front and center
When you go onto business websites that want to grab your attention, you almost universally see one thing. Big discounts and sales right at the top of the homepage. It's an attention grabber if you put the text in white surrounded by a bright red background. It's a great way to entice customers. Even things that they didn't plan on buying might be something they are interested in because they feel like it would be a bargain to buy them now. There's a classy way to do this and a tacky way. The latter is quite simple, make the discount icons take up most of the room on the homepage. The former way is to put the sales in your banner rather than a paid advert. This way, you can implement a banner that expands when visitors hover over it with their cursor. It saves space on the page but also makes it interactive.
Don't be afraid to be unique
All too often you see websites that don't look very imaginative. In one form or another you have already seen their designs. It's not very inspiring and you feel as if many of the designs have been ripped off from other websites you frequently visit. Don't be afraid to be totally unique and have your own custom website design. Expert companies usually have a 4-stage procedure when you hire them. First is the discovery phase whereby you will speak to the designers and express your business character and company culture to them. Next the design phase makes sure these things are implemented in the UX design. Then the development phase begins with functionality and practicality put at center stage. Finally with testing done you'll go live and see your custom website come to life for the first time.
Interactive visuals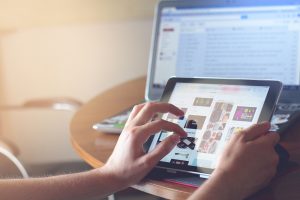 Videos that expand when the cursor is over them really do help to make the website more visually interactive and interesting. Playing videos with the sound muted until one hovers over them helps to keep things from getting annoying. 
Grab and hold, this should be your aim for the underlying design initiative for your website. Don't be afraid to be unique and go with a totally custom website design but also incorporate sales and discounts tastefully.