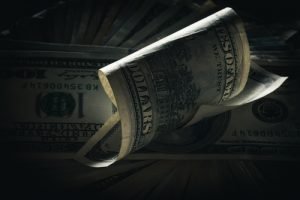 Will we see a major market pullback? Is the sub-prime auto loan bubble about to burst? What if NAFTA and trade wars don't pan out?
High volatility is the main character in the markets today… is it time to invest?
There's money to be made playing both market directions. Despite crashes, the markets go up. Those investing for the long-term, without emotionally reacting to the (what seems like) daily swings, will see through their market concerns.
Of course, you'll want a diversified portfolio to provide thriving investments.
Don't know where to start with your portfolio? Consider the following:
ETFs
ETFs, short for exchange-traded funds, is a collection of stocks providing investors with broad access to companies. These are traded on exchanges the same as stocks. ETFs are a safe investment because it has built-in diversification.
Commonly suggested ETFs include:
iShares Russel 3000 ETF
Fidelity MSCI Financials ETF
iShares Core MSCI Intl Dev Mkts ETF
You'll find ETFs divided into different sectors, too, if you have a preference (like technology).
Currencies
Currency investments are some of the easiest to explore especially with many options for buying currency online. The general idea is to invest in currencies hoping the value increases. For example, for every $1 USD, you'd have 1.30CAD. Currencies increase/decrease by small percentages providing good returns without major swings.
Currencies to explore include:
Iraqi Dinar
European Euro
Swiss Franc
South African Rand
Trading strategies with currency often involve politics such as trade wars and positional changes. Join a forex exchange and diversify a part of your portfolio with currencies.
Bonds
Bonds are an agreement between two parties in which the issuer is paid a percentage/interest over the terms. These are common in most retirement portfolios because they remain stable during an economic downturn. Of course, bonds aren't perfect as they do have the potential to default. Or, yields increase while you're stuck in current terms (possibly for years/decades to come).
Bonds worth noting include:
Voya Securitized Credit P (VSCFX)
Metropolitan West Floating (MWFRX)
Pimco Fixed Income Shares C (FXICX)
First Eagle High Yield I (FEHIX)
Bonds vary by interest and bring a penalty when cashed-out early. So, it's important to consider the long time frame of the investment compared to other strategies giving liquid options.
Startups
You hear about the latest IPOs and their explosive earnings upon market listing. Getting into these early IPOs is a real challenge — far outside the skillsets of most beginner investors – since it A) requires massive capital, and B) knowing the right people. But, there are ways to get your investment in on the ground floor if you're savvy.
There are a few ways to get in when it's good:
Approach the business owners and offer capital directly (with a contract of course)
Follow startup news and when they're listed on major exchange platforms to buy the moment they're available
Use crowdfunding-type sites like SeedInvest, Microventures, or WeFunder
Just remember to do extra due diligence when researching and investing in startups. Many of the companies you'll find available to seed may yet to have made a profit — so, know what you're getting in for when handing over funds.
Stocks
Warren Buffet, investor extraordinaire, recommends holding a 90/10 portfolio of stocks and bonds. This provides you with the greatest exposure to the markets while building stable growth by including bonds. Stocks are incredibly easy to invest in with modern platforms from Fidelity, ETrade, and Robinhood.
How could you start exploring stocks?
Pick a handful of companies you love and have shown promising growth (based on earnings reports and charts)
Use index funds for big exposure to the markets like Vanguard Mega Cap ETF, Vanguard Large-Cap ETF, or Vanguard S&P 500 ETF
The trick to making money with stocks is simple: buy and hold.
This means weathering the storms (if possible) during downturns. And, keeping the money in as long as you can. Why? Because the historical stock market return is about 7%-8%.
Property (or REITs)
Want to get your hands dirty? Consider rental/income property. This not only creates incredible assets in your portfolio but also a monthly stream of income you can use to reinvest in other investment ideas.
What type of property?
Small family homes
Tiny homes
Storage facilities
Land (close to future developments)
There's more to it than what you've seen on HGTV. But, it's possible to earn sizable income from property with enough research, planning, and working with the right contractors. Else, consider REITs — these are realty investment trusts paying regular dividends without the hassle of dealing with tenants and property tasks.
The Longer, The Better. Start Today.
Time in the market is more important than trying to time the market. The earlier you start investing the more your money can grow. Don't be afraid to explore different investment ideas if it helps reaffirm your understanding. Time is on your side if you start early, so get things going and build that portfolio!