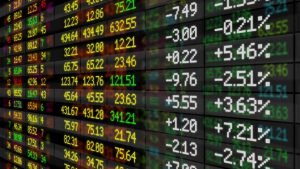 The most important thing to remember about trading, focusing on short-term goals, and investing, focusing on long-range goals, is that you learn about the system and what to do.
Although this might seem a rather obvious piece of advice, it's rarely followed. You may be surprised to learn that many traders treat each stock, security and bond market as if they were the same environment, failing to appreciate the differences, and, worse still, getting into all sorts of investments without at least knowing a few things about the process.
Understand the Trading Environment
National Association of Securities Dealer Automated Quotation (NASDAQ), for example, is a trading environment. It is the second-largest stock exchange in the world, after the New York Stock Exchange (NYSE) in terms of market capitalization. Although they are located in the same city, NASDAQ is a different environment then NYSE. They have different trading principles. The NYSE is an auction market, NASDAQ is a dealer's market. So some useful things to know about NASDAQ if you are trading in it are basics like opening and closing times, NASDAQ holidays, and, of course, the rules and regulations.
What to Do in the Stock Market
When studying investing basics, here are a few things that you should factor into your trading plan:
Avoid over-optimism
It may have taken you some time for you to create enough money to fund your trading account, perhaps years of frugal living and painstaking savings. However, it's only too easy to get a little too thrilled at the opportunities to double or triple your money. Instead of putting all your money on what you consider are some winning trades, exercise caution, focusing only on what you can afford to lose rather than what you can hope to gain.
While optimism is generally a good thing in life, in the stock market, it can land you into trouble, tempting you to over invest. Sometimes winning trades are what they seem; at other times, they are mirages. You don't know enough about them in the moment. While there may be some pain in not riding a winning trade all the way up with your resources, the pain of making a mistake and having your total account wiped out is even worse.
If you don't maximize the benefits of a winning trade, then there are still other others just around the corner. However, if the market turns against you quickly and wipes out your account, then you are out of the stock market game completely.
Another way you can avoid becoming a victim of your optimism is by putting in a stop loss. It is better to exit with a stop on a losing trade than it is to ignore a stop loss on a winning trade.
Stick to the Facts
The more highly intelligent you are, the more possibilities you can see because you are a visionary. In chess, for example, an amateur player will see only five candidate moves in a given position while a master chess player will see an additional five candidate options. Similarly, in the stock market, you can get highly creative when developing your trading methodology.
However, many scammers prey on imaginative people, promising quicker, faster ways of making money. Some scams, for example, are quite convincing, telling you in breathless detail about the enormous search potentiality of their software to seek out winning trades. Be wary of stock market scams.
Avoid anything that is not a solid trading methodology. Make the effort to slowly and carefully study the facts about trading. The trading methodology that you eventually arrive at should be based on researched information and experience rather than magical thinking. Theoretically, it is possible that there is an analytical system or software that far exceeds a slow and deliberate approach, but it is also more likely that someone is merely selling you the spades you need to dig for gold because it is far more profitable than if they did the gold-digging themselves.
It's fun to be in the stock market. It's is an exciting way to make extra money or earn a living. If you're really good at it, you could make as much money in a month with little effort than you would if you worked hard for a whole year at a regular job. However, the reason why everybody isn't doing it instead of commuting to the job they hate is that it takes considerable time, study, and practice to be that good. So, if you're serious about the stock market, you have to take it seriously, working at it with the same diligence as someone studying for a law degree.