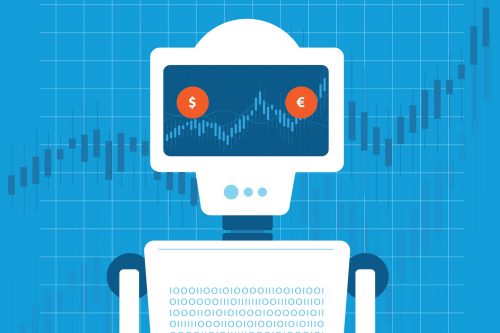 Automated Investing: The Future of Investing
The roboadvisor industry has soared in popularity over the last few years. Robo advisors have become popular for making professional investment management easy and available to anyone. They do so by using technology to automate the investment process and pass the savings on to their clients through a low-cost portfolio. These technology-based solutions are especially popular among young professionals who are too busy to do their own investment research and do not yet have the wealth to approach a traditional investment advisor.
What Are Robo-Advisors?

Robo-advisors are typically digital platforms that provide computer-driven investment services with little to no interaction from a person. They collect a small amount of information  through a short survey so they can assess your investing preferences. Then, they use that data to build an investment portfolio for their customers. Most of them invest in funds such as ETFs1. Fundamentally, robo advisors are a technology-based automated investment platform that allows any investor the chance to grow their wealth. Many have lower fees and lower minimum investment requirements than traditional investment advisors. Another benefit is that since they are technology-based, and you can log in at your convenience. This is a key differentiator versus the traditional high net worth investment advisor. It allows more people to access investment services as long as they have an Internet connection. Additionally, the platforms are known to be simple to use and hands-free from the customer's perspective (i.e., everything is done for you just like a traditional investment advisor).
Current Robo-Advisor Landscape
When you think of robo advisors, you might think of some of the bigger names in the industry. However, these companies tend to offer generic investments based on ETFs and add a management fee on top of the "hidden" ETF fees. While additional fund fees are a drawback, the lack of customizability to the individual is a significant factor when selecting an advisor. Currently, none of the major players in the industry are able to provide a truly customized product to their customer or address their burdensome "hidden fees". While some of the original robo advisors started as portfolio rebalancing tools, today, robo advisors are capable of handling more sophisticated investment strategies such as investment selection, planning, and tax-loss harvesting.
Robo Advisor 2.0

Emperor Investments is the next generation of robo advisor and has a distinct competitive advantage in the marketplace.
Emperor has a customized investment approach tailored to the individual. The customization is similar to a human financial advisor as Emperor creates a portfolio of individual stocks for their clients, not funds such as ETFs. And while traditional advisors might charge up to 3% for a custom pure stock portfolio, Emperor cuts costs by using technology and passes the savings on to you, charging only 0.6%. Additionally, by creating a portfolio of stocks for you, you hold full ownership of your investments. Emperor also minimizes turnover (buying and selling) of stocks and increases tax efficiency through low-frequency trading. The best part? Emperor invests exclusively in companies with a long history of paying consistent dividends.
Benefits of Dividend Income

Screenshots are hypothetical examples used for illustrative purposes and do not represent the performance of any specific investment or product5
What are the benefits of dividend investing? First, there is the benefit of a direct return on capital from the consistent dividend. This means you make money on a regular basis from the dividend payment that can be used as an income stream or to repurchase more shares (dividend reinvestment). Second, dividends stocks have historically been a proven approach to building wealth in the stock market2. Additionally, it is worth noting that a significant portion of the return on the stock market is through dividends.
Emperor's Stock Selection Process

Screenshots are hypothetical examples used for illustrative purposes and do not represent the performance of any specific investment or product5
Emperor's technology-based platform automatically assesses stocks every quarter to select what they call "The Dream Team" portfolio of stocks. The full details are part of their proprietary "secret sauce", but one thing they look for is a long history of paying dividends.  The initial screening is done by their technology, but they also employ security analysts to do a deeper dive; researching things like the quality of each company's management. Finally, once the Dream Team pool of companies is selected and analyzed, a portfolio is tailor-made based on the goals, timeline, and risk tolerance of each individual client.
Who is Emperor Investments?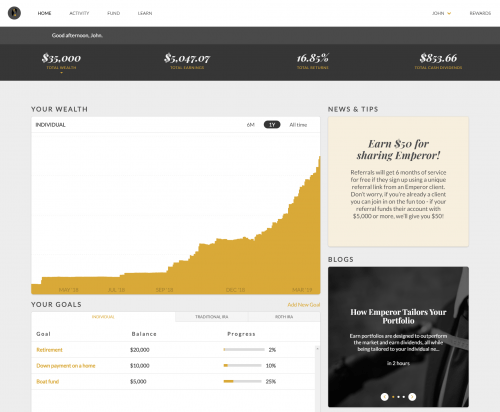 Screenshots are hypothetical examples used for illustrative purposes and do not represent the performance of any specific investment or product5
The company that became Emperor Investments was founded in 2011 by Brenna Casserly, CEO and Francis Tapon, CIO and Finance Professor with over 40 years of experience. The company is backed by a strong group of investors and it's founders. Leading up to their launch in July 2018, Brenna and Francis were hard at work manually testing and improving the foundations of their algorithm and investment philosophy. Once the foundations were perfected in 2017, Tornike Natsvlishvili, CTO was brought on to create the investing technology to automate this process. Along with a team of developers and designers, they created the rest of the platform and turned Emperor into the platform it is today.
Why did they start the company? Brenna came from a wealth management background and always found that the options available to younger professionals starting their careers were extremely limited.
"Unless you have over $250,000 in assets, the only options available to you if you want to invest in the stock market are funds or robo advisors that buy funds. I believe that the rich aren't the only people who should have access to truly customized, pure stock portfolios. I founded Emperor Investments with my co-founder Francis because I wanted to democratize access to the stock market for the people who need it the most; that's why we exist." – Brenna Casserly, CEO
Why The Emperor Penguin?

Through the harshest Antarctic winters, the Emperor Penguin will guard his egg to ensure its survival. They believe the Emperor Penguin is what every asset manager should aspire to be; loyal, resilient, and dependable. At Emperor Investments, they treat your nest egg as our own and no matter what storm the market is brewing, they'll be there to help you through it.
Summary: The Emperor Advantage
√  Help you achieve your financial goals
√  Dividend investing approach
√  Ability to reinvest dividends
√  Automatic rebalancing4
√  Save time and money
√  Human support
√  Goal oriented investing
√  Pure stock investing
√  Easy to use platform
√  Get started with as little as $500
√  Low management fees, 0.6%
Disclosures:
1 Mutual Funds and Exchange Traded Funds (ETF's) are sold by prospectus. Please consider the investment objectives, risks, charges, and expenses carefully before investing. The prospectus, which contains this and other information about the investment company, can be obtained from the Fund Company or your financial professional. Be sure to read the prospectus carefully before deciding whether to invest.
2 Past performance is no guarantee of future results.  The investment return and principal value of an investment will fluctuate so that an investor's shares, when redeemed, may be worth more or less than their original cost. Current performance may be lower or higher than the performance quoted.
3 The results of the back-tests shown do not represent the results of actual trading using client assets but were achieved by means of the retroactive application of a model that was designed with the benefit of hindsight and should not be considered indicative of the skill of the adviser. The results may not reflect the impact that any material market or economic factors might have had on the adviser's use of the back tested model if the model had been used during the period to actually manage client assets. The performance calculations for the back-tested results deducted a management fee of (0.60%) per year. Unless otherwise indicated, data is as of (05/19/2018).
4 Rebalancing/Reallocating can entail transaction costs and tax consequences that should be considered when determining a rebalancing/reallocation strategy.
5 Screenshots are hypothetical examples used for illustrative purposes and do not represent the performance of any specific investment or product. Rates of return will vary over time, particularly for long-term investments. Investments offering the potential for higher rates of return also involve a higher degree of risk of loss. Actual results will vary.