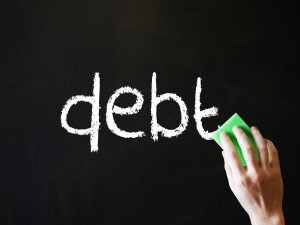 Regardless of the reason why someone goes into debt, borrowing money is very costly. Interest charges are typically added to the amount borrowed, which makes it harder to repay. 
Your credit score can be negatively impacted when you owe too much, which can lead to higher interest rates for new loans, or, being turned down the next time you try to borrow.
Even when we go into debt for a good reason, such as taking out student loans to finance a college education, doing so can increase our stress levels to the point that it increases feelings of anxiety and depression and affects our overall mental health.
If you owe a lot of money, it will be easier and less stressful to pay your regular bills once you have paid off your outstanding balances. The following tips can help you learn how to repay your loans quickly and get out of debt once and for all.
Consolidate Debt and Lower Your Interest Rate
Keeping up with all of the regular monthly bills, along with debt repayments, is difficult for most of us. Just one late payment can cause further damage to your credit score.
One way to relieve some of the pressure is to consolidate all of your high-interest, smaller debts into one. To accomplish this, just transfer all of your debts to one credit card that charges a lower interest rate.
Taking this step lowers the amount of interest you pay overall, and reduces the number of individual monthly payments that you need to make. Sites like CreditSoup make it easy to compare rates and terms for several credit cards and find the one that best fits your needs. Some cards even offer promotional rates of 0%, making it easier to pay off the balance during the limited time the rate is in effect!
Increase Your Income to Pay Off Debt More Quickly
If you're already struggling to keep up with your payments, it will be hard to pay off your outstanding balance unless you find ways to increase your income. Popular options to earn extra cash include working overtime, selling extra assets such as a second car or vacation property, or looking for a way to make money from your hobbies. For example, if you have a specific skill such as knitting or woodworking, you could make some crafts to sell online or at a local fair.
If performing your regular job doesn't take up too much of your time and energy, you might even consider taking on a second part-time job and putting your earnings towards paying off what you owe. You should also re-direct any windfalls that you receive, such as a big tax refund or unexpected gift of money from a friend or relative, towards paying off your debt.
The faster that you pay off your outstanding balances, the more money that you will save in interest charges on the loan. 
Avoid Taking on New Debt
While you might be tempted to rush out and borrow again once you are out of debt, you should resist the urge to do so. Using a budget to help you plan how you will spend your income can help you to control your spending. When you can't afford to buy the items that you want, look for ways to save the money to pay for it rather than going into debt again.
Conquering massive debt is not an easy feat for anyone, but it can teach borrowers several important personal finance lessons. One of the most significant lessons that you can learn is how to tell the difference between true needs and simple wants and desires. Once you've struggled to pay off what you owe, you are more likely to really think about your financial goals, and what you want to accomplish in the future before you make a purchase.