Looking for even more ways to earn money online?
From working as a remote employee to the rise of the gig economy, there's no better time than now to make money using skills and knowledge you already have – and often, you don't even have to leave your house. While there are plenty of sites that offer easy ways to make money online by completing surveys, reviewing websites or selling unwanted items, if you have highly-specialized skills in a particular area, you can turn that information into a money-generating product.
But it's not just about skills – this is also about earning money online, creating extra income while doing something that you really enjoy. Making money doing something that you love is a dream that millions would love to see come true – but not everyone is willing to try. The good news is that you don't have to quit your day job and risk your life savings to create a side hustle and give this dream a go – here are some websites that can help you create and sell a class, earn money with your artwork, or raise funding from an audience that wants to support future work. Here are the best sites that can help you start creating – and selling – now.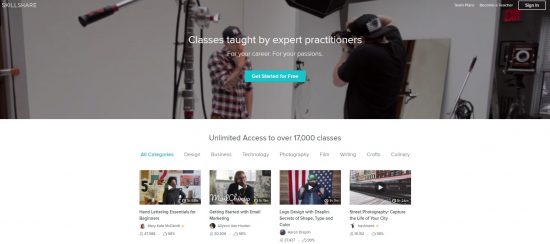 Have you ever thought about becoming a teacher? With Skillshare you can create a class around a subject you're knowledgeable about, upload it to the site and enjoy a passive income stream as students pay to take your course. From business and technology to a full range of creative arts like photography and writing, the site already offers over 17,000 classes to students around the world – created by people just like you.
While it may sound intimidating to create your first course, the site offers a helpful, easy-to-use class creation tool – and even a 30-day challenge – to help you film your class videos from home, along with additional resources to prepare your course for the site. Once your class is available, you can build a dedicated Skillshare channel and engage with your students. Millions of students are already registered with the site, so the only problem you'll face is narrowing down which skill you'd like to teach first.
Etsy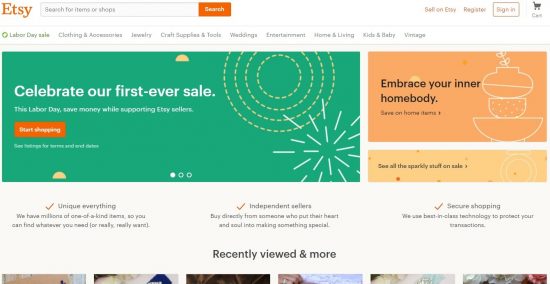 As the internet's largest craft marketplace, Etsy is known for a diverse – and often excellent – selection of hand-crafted goods. If you have a passion for being a 'maker', and want to make a side hustle income using your skills for crafting, you can easily set up your own shop and start selling. While 'arts and crafts' has a reputation for being handmade and, how should I say… ahem, less polished, than mass-market products, you'll find that there is a huge range of styles and quality available on Etsy.
Etsy keeps fees low so it's appealing, and affordable, for even the smallest shop owners to sell on their site. Of course, it's up to you to market your items well. Make the extra effort to take high-quality images of your products, test different pricing options and even various content options for product copy to see what sells best, and refine your offerings as you go. Etsy is an excellent way to earn extra income while doing something you already enjoy – and to provide unique, one-of-a-kind goods that shoppers won't find anywhere else.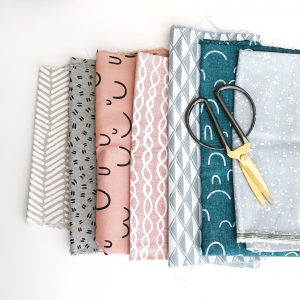 Writing an Ebook
If creating physical products isn't your cup of tea, perhaps you'd like to try your hand at writing instead. While previous generations of writers have had to rely on finding a publishing house to print, distribute and publicize their written works, the internet has changed that entire business model – making it possible for anyone to become a published author.
One of the great things about self-publishing is that there are no barriers in terms of topics. In fact, writing about niche topics can be an excellent way to build an audience of loyal fans. Are you knowledgeable about the franchise history of the Chicago Bears? Have you segment-hiked the Appalachian Trail? Do you have a passion for 3-D printing replacement parts for Italian cars from the 1960's? Then get to your computer, start writing and make money! If you're interested in a topic, there is no doubt that you'll find others who are too.
Once you've written your book, there are plenty of services that can help you get it prepared and listed. Blurb, Lulu and Amazon's Kindle Direct Publish are all excellent, established options – and offer tools and resources to help you market and sell your work.
Creative Market
If you're a graphic designer, coder or photographer – or, as they call it, a creator of 'mousemade design content', you can create and sell your digital goods through Creative Market. Over 3.5 million independent creatives sell through Creative Market, and the range of ready-to-use design assets is incredibly diverse – they offer everything from polished Powerpoint templates to infographic resume designs to ecommerce store themes. Creative Market is an excellent way to build your design portfolio, exercise your creativity, and make some money online too.
Patreon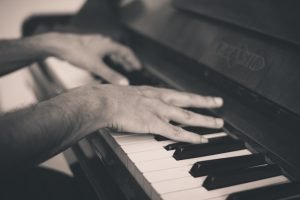 Truth? Nobody actually likes being a starving artist. But many creative people find it challenging to make art they find compelling – and actually make money from it too. Patreon is a platform designed to help solve this problem with a very modern approach – crowdfunding.
Whatever kind of art you make – music, poetry, dance, visual arts, creative writing, podcasts – Patreon provides you the ability to create paid memberships for your fans. They pay a small fee each month, and in exchange, they receive access to exclusive content and experiences. The site also offers a wide range of tools so you can have clear insights into what's resonating with your audience, where it's being shared online and how quickly your fanbase is growing.
So there you have it – several easy ways to turn your interests and creative endeavors into cash. Whatever hobbies you have, there's a way to earn a meaningful side income – and potentially build a full-time career – in doing what you enjoy, you just have to get started. Why wait?
Latest posts by The Fortunate Investor
(see all)