Do you want to have a flexible work schedule while earning big? Start working in the gig economy! Flexible hours is one benefit, but some of these companies pay big bucks. Here are the 4 best paying gig economy jobs.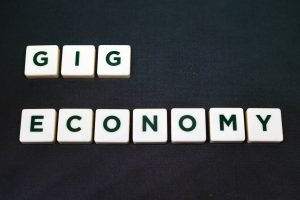 Freelancing is not what it used to be. It's significantly better. You can be your own boss and set your own schedule, make money on your timeline, it is the ultimate in 21st century entrepreneurship. 
Recently, internet services have matured allowing over 57 million Americans to work in the gig economy with numbers continuing to rise. Out of those, over 18 million were earning over $75,000 annually.
Gig economy jobs are continuing to expand as employers seek specialized people for short projects or remote work. Equally, the dreaded 9 to 5 workday is becoming increasingly seen as an old by-product of the industrial revolution with no place in modern society.
People want flexible hours, variety in their projects, options to work from home, and the choice to take time off without having to ask for approval. Technology is making all of this possible and allowing those unable to afford the expense of moving to a city the chance to do what they love.
The main challenge facing freelancers is finding consistent work that pays well. So instead of listing the jobs which pay the most per hour, the below list will outline the jobs where work is most available.
Whether you want to make some extra money on the side or freelance full-time, knowing the best options out there will help you get started.
The 4 Best Paying Gig Economy Jobs
1. Become a Writer

With the exponential growth in websites, blogs, and other online content, there are numerous options for writers in today's freelance market.
The average salary works out to $50,000 a year with the more experienced writers far exceeding that, charging hundreds per hour.
2. Do Graphic Design
For every writer, there's a need for a designer who can create the look and feel of the communications.
You could take a short course to learn how to use the software but many people who are self-taught have had very successful careers. The annual salary is around $60,000 a year and unlike a writer who is restricted by language, you can design for any company in the world.
3. Build and Develop Websites
Every company requires a website. Whether a restaurant owner or venture capitalist, being online is an essential part of staying competitive in today's market.
Freelance Web Developers can earn $65,000 a year and it's an easy skill to develop that can start paying off quite quickly.
4. Be a Software Developer or Programmer
Knowing how to code is quickly becoming an essential skill demanded globally.
The average annual salary is just under $80,000 with many opportunities to far exceed this. If you have a knack for computers, this can be an extremely lucrative option with endless clients ahead.
Just Take That First Step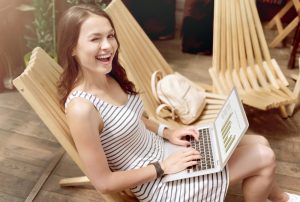 Taking on more work, trying something new, or going freelance full-time can seem like a daunting task, but it starts by simply putting yourself out there. Websites like Upwork are great places for finding a wide range of skill-based freelance work that is guaranteed to get you paid. Check out other ways to make money online.
If you feel that any of the above options don't suit you, there are plenty of other opportunities out there too. You could drive for Uber or Uber Eats or even offer your unique services to others through sites like TaskRabbit.
The gig economy is thriving and there's plenty of space for you to join in. Be sure to check out this guide for freelancers and other useful articles to get started.

Latest posts by The Saving Gal
(see all)