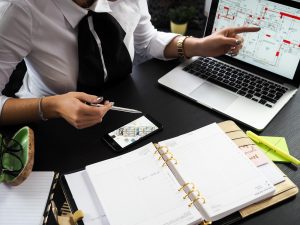 From the perspective of a small business owner, winter weather will impact the bottom line. While the consumer will largely be worrying about how they're going to pay the bills for the heating, how they're going to get to work on time, the business owner will be worrying about the lack of customers worrying about making a purchase. Winter weather is, of course, a part of a pattern, so every entrepreneur must plan every year for their winter incentives. You have to get customers clicking and walking through the door somehow. Seasonal offers play a crucial role in keeping a steady ship as well as a few other strategies.
Inventory to fit the season
If you're a cafe, you should be serving seasonal food. Pumpkin soup, hot chocolate and even homemade stews wouldn't look out of place on the menu. Order the things you need to fulfil this kind of menu well in advance. Pumpkins will be out of season domestically, but ordering from abroad should make up for that. If you're a clothing company, you should be putting your winter coats front and center on your website. The first thing customers should see on your homepage is an array of winter clothing; i.e. coats, knitwear, gloves, scarves and more.
Dent in the workforce
Every boss will have to come to the realization that not all of his or her employees will show up to work. Someone's car might not start, the trains might be delayed or even cancelled, the roads might be shut off due to an accident or a danger of black ice. You never know when there's going to be a dent in your workforce but that's why seasonal preparation matters so much. Call a meeting with your managers and decide on a continuation plan. If a certain employee cannot make it into work, how can you limit the impact of their absence? Could you possibly give them work via email or ask them to continue on work projects from home? Could somebody else who is just as skilled share some of the tasks to edge them closer to completion? Figure out a way of limiting the employee impact for winter so your business remains functioning at a reasonable level.
Emergency power
In winter, it's expected that you will have a power failure at some point. Businesses need to be ready for this and use emergency power such as these cummins generators. As long as you have diesel, you will have power. Take a look at the C33D5 model which has a 175-liter, 31-hour run fuel tank at 75% load. It's great for agricultural companies and heavy-industry such as the mining sector, but it's also used for emergency back-up power for the average business. There are also optional weatherproof outlets available. It's always a good idea to store some cans of diesel alongside the generator so you can carry on working for many days if the power is not restored quickly.
Winter weather will keep some customers away but there are plenty of seasonal incentive strategies for you to implement. Businesses should plan for a decrease in workforce numbers at any given time during the winter, to prevent work from falling behind.