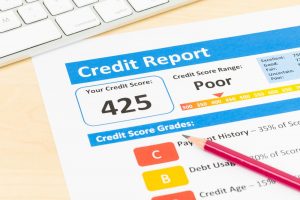 Yes folks, there is such a thing as a permanent record. And, yes it does have a significant impact upon the overall quality of your life. And yes, we're talking about your credit score. Your credit score is made up of your credit history. It is next to impossible to overstate how resolutely that three-digit number can determine the nature of your life in mainstream society.
Sounds far-fetched you say? Here's what your credit history means to your future.
Where You Live and What You Drive
Yes, there are no credit history car loans available, and while they can be a godsend when you're just starting out, you'll enjoy lower interest rates on loans as you progress, if you keep your record pristine.
In some cases, you can even get a home with no credit history — assuming you have a huge down payment and are willing to pay private mortgage insurance, in addition to the higher interest rate your mortgage will command. Remarkably though, a poor credit history can be much worse than no credit history at all.
General insurance can be more costly with a poor credit history too. Underwriters will consider you to be more of a risk. Oh, and utility companies will take one look at a low credit score and demand deposits before turning on electricity, gas, water, cable, internet access and telephones.
Job Searches Can Be Easier
If you've maintained a high credit score, potential employers will look upon you more favorably than people who have not. One of the measures of your veracity employers consider is whether or not you pay your bills on time.
This is particularly true in positions requiring security clearances, or careers in finance. Employers figure you're less likely to be forced into a compromising position if your debts are consistently in hand. People have been known to violate trusts when money problems push them into desperate situations.
Debt Is Easier to Manage
Individuals with exceptional credit can often qualify for interest-free financing on new cars. But even if they don't, the interest rate they'll be required to pay will be much lower than the rate demanded of those with poor credit histories.
Those higher interest rates make borrowing more expensive, which in turn makes everything you buy on credit cost more. This could mean you'll have to accept a lower standard of living than your income should command because you've managed your finances poorly.
Meanwhile, good credit means you'll have to pay less, which means you can have what you deserve because you've demonstrated your ability to shoulder responsibility. It also means you'll be able to repay debts sooner.
Savings and Investments Grow Faster
If you're carrying a lot of debt from month to month, the cash that could be working for you in a savings or an investment account will instead be going to enrich your creditors. This is money you could be setting aside to work for you when you no longer want to work for your money.
Even better, with more wealth upon which to retire, you'll have additional choices about what to do with your time. Travel is easier with extra cash on hand, that vintage car you always wanted will be simpler to acquire and affordable to maintain.
Meanwhile, if low credit scores have diverted too much of your cash into others' coffers, you won't even be able to consider retiring at all. You'll work until you drop dead.
And that, in a nutshell, is what your credit history means to your future.