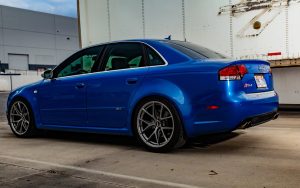 It seems to be the case that everyone needs a car nowadays. It's not actually an essential part of life, but with the number of things that we need to do and how busy a lot of us are, walking doesn't seem to be enough. We need to get to work, we need to get the kids to school, and we need to run everyday errands.
For those of us that do drive, we do tend to spend an awful lot of time in our cars, so we're going to want to be sitting in something that we're comfortable with and perhaps something that suits us. We like to customize things in our life to reflect our personas, and a car is not different – you don't need to be a big motorhead to want to have a personalized car. There are a bunch of ways you can shake things up, let's take a look at a few now.   
Color
We'll start off with a nice and simple idea – though while it's not too technical, it is a big decision to make as it'll change the entire look! If you've recently bought a car or have had one for a long time and have never really liked its color, then why not get it sprayed. You can pick almost anything you want that will suit you.
Accessories
Slightly lesser-profile additions you could add to your car would be little accessories that can add that little extra something to it. You could put some custom car air fresheners in there to not only make the area smell a certain way, but also look a little cuter. You could customize the gear stick or the wheel a little. You could also add some different and new floor mats.
Interior
If you want a big change-up to the interior, then you could head on down to a shop and have a little look at some of the designs that you can have installed within the car. We mentioned briefly some of the small stuff you can place in the car in terms of accessories, but you can also take out the entire inside and chuck a new one in.  
Number Plate
Changing up the number plate might be for you – it's not a hugely significant shake-up, but it's enough to add that extra bit of personalization to it. As long as it's not taken, and it's not crass or offensive, then you're free to pick whatever you like!
Body Kit
If you're not currently enjoying the shape and figure of your car, then you can also get in touch with professionals and have a talk about how it can be made to look a little shaper or if anything needs adding in this respect. You can make your car go from plain to sexy with a change of the kit.
Wheels
They're a huge part of the aesthetics. You don't just want them to be functioning correctly so that you can get from A to B, you'll want them looking glamorous and shiny! You can head on down to the shop and have a look at rims and tires.