Investing prudently for your children's future – How to create a profitable and manageable college fund
College is an important time in your child's life – During college, your children have the chance to improve their education and carve out for themselves a career path. They can grow as a human being, form friendships, business contacts and broaden their horizons. College, unfortunately, is not free, however – It is the responsibility of the family to fund their children's time at college and the best way to do this is through a college savings fund. Careful consideration should be given when creating a college fund and there are many factors and choices you should be aware of in order to make the most of your savings.
Start saving early and get ahead of the game!

The most important and easiest way to build a profitable college fund is to start saving early! This might sound like a basic tip however it is unbelievable how many parents who leave it too late. The longer you leave it, the less amount of time you have to save, and the more you will have to put away per month. This will mean that your own disposable income will also suffer and you could end up in a financial mess. Start saving as soon as your child is born! Put any current savings into the fund, and any monetary presents from grandparents etc. The longer you save, the more you can spread out the cost. For example, you can save a decent amount by putting away $325.00 per month over an 18-year period. However, if you didn't start saving until 10 years down the line, you would have to save $735.00 per month instead!

Help share responsibility and get your children involved

Your children should understand that this college fund is for their future benefit. They should be made aware of the financial implications and how this will affect your income. They should also share responsibility and view a college fund as something they should actively contribute too. Encourage them to put their own money into the fund and get a part time job when appropriate so they can ease your financial situation. This involvement will help them understand the value of money, and give them the chance to engage in saving and money management. Don't risk your retirement to pay for your fund.

Consider a section 529 savings plan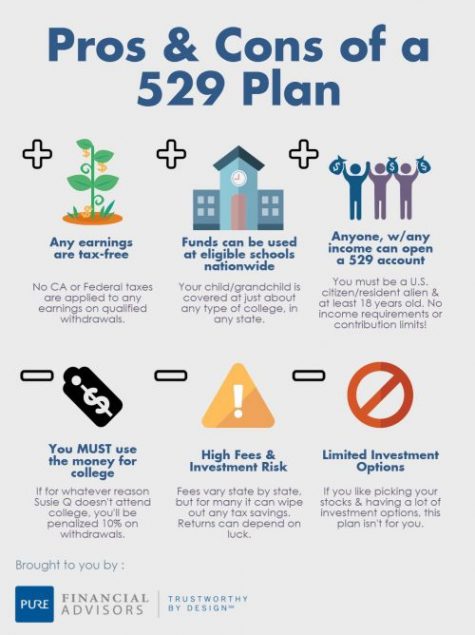 This type of college savings plan is general the most popular option for many families across the US. Sponsored by the state, this plan is available to any US resident and is not state specific. Furthermore, there is no income limitation on the savings, therefore, you can literally contribute as much as you want on a monthly basis. With a projected average return of 8% per year, there are real gains to be made from a 529 plan. For example, if you invested $125 per month for 18 years your potential return could be as high as $60,000. Finally, this plan gives control of funds to the contributor (i.e. the person who is paying the money in). This gives families a greater amount of control and ensures that the college fund will go to the right person at the right time.

[sa_captivate]
Consider a Coverdell ESA plan for College
The other major type of college savings plan is the Coverdell ESA (Education Savings Account). This college savings plan is for those whose income falls below certain criteria. Anyone in your family can contribute to this savings account providing they meet the specified criteria, but only a set amount can be saved per year. A great advantage of Coverdell investments is that you can actively manage your portfolio i.e. you can choose how your money is invested. This gives you a greater amount of control, and for those who practice active financial management, can mean they can potentially increase the ROI.
College Fund
A college fund is a serious issue and one that should not be taken lightly. It is natural for a parent to want to provide only the best for their children. You want your children to prosper and to be given the best possible head start in life. Ensuring you get the most out of your college fund and managing it effectively is a great way to do this.