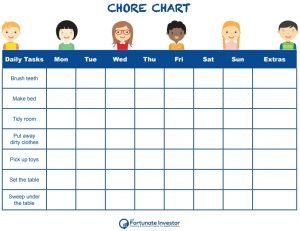 As a clinical therapist, I know parents try to teach their kids everything. From academics to safety, manners, how to drive, excel at sports, the list goes on; it's no wonder many parents forget to prepare their kid and teen to be financially responsible. Many young adults leave their parent's home and have no idea how to manage minimal finances. They do not even know the importance of paying down credit card bills. As a money savvy parent, you know better and you need to teach your child to be financially smart at a younger age.
When To Teach Your Kids
The average child should be ready to learn about basic finances at around age ten. Of course, some kids are ready earlier and others later. The best way to teach a child about money is an allowance system. This way, your kid is not just being lectured about spending and saving, they are practicing and experimenting with saving, spending, and budgeting. And using visual tools, like play money and a kid-friendly chore chart can make this a fun, engaging activity rather than a painful slog.
Setting Up An Allowance
There is no "one size fits all" program. Consider these factors to make the best plan for your kid.
The age of your child
Should they earn the money with jobs and chores or be given the money
How much should he or she be responsible for
How often do you give the allowance, weekly or monthly
Why Is A System Important
If you have a younger child you will want to keep things simple by only requiring the child to pay for the "extras." Things like toys (outside of birthday and holiday gifts), spending money at the mall or seeing a movie with friends. Anything that you do not consider to be necessities. This way if your child makes a budgeting mistake, you are still covering all of their basic needs.
You can approach a teenager differently. They should be more capable of managing money and have some experience with budgets and understanding how far a dollar goes. You may ask your teenager to not only be responsible for the "extras" but also clothing, gas and meals out with friends. Teens are closer to living independently and paying for necessities so it's best to teach these lessons while they're still under your roof.
How Much Money To Give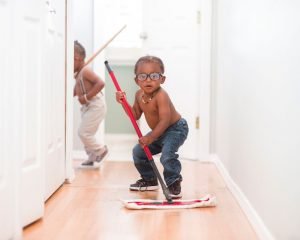 Once you decide what your child/teen will be paying for independently you need to decide how much money to give. The most important advice is to set your child up for success! Think hard about the amount of money to give. Too little money, your kid will soon feel frustrated and angry about the system you have put in place. Too much money, and you're child will completely miss the purpose. They will be able to buy anything and everything and not need to make difficult but necessary spending choices.
Ideally you want them to save for bigger items. Imagine your kid putting a portion of their allowance aside each week to save up over months for the latest Xbox system.   You, and most importantly, they will gain a huge sense of accomplishment and pride when finally going to buy that toy. This feeling does not compare if you buy the item for him on any random day or even if they open it as a holiday gift.
Stick With Your Plan
Prepare yourself to not give your kid more money if they run out. The child or teen will make mistakes. It is through learning the hard way that they make better spending choices. If your kid runs out of money and you give them more before it's time you're not teaching anything. Rather, if your child runs out of money early, sit down together and look at where the money was spent and why it ran out. Show them some other ways to handle the money differently next time.
Financial challenges are one of the top stresses in most adult's lives. Yet, too many parents do not make teaching their kids about finances a priority. They may be too focused on the child's academics or less practical hobbies or interests. Parents can easily get started teaching by setting up an allowance system for their child or teen to start making independent financial decisions at an earlier age.
I also recommend parents read Money Doesn't Grow On Trees to prepare your kids to be financially responsible adults.
Latest posts by Clinical Psychotherapist
(see all)