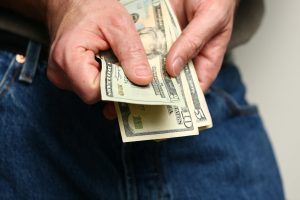 Money is an essential part of our lives, and we all have financial obligations that we need to fulfill. However, there may be situations where we need money immediately. These situations can range from unexpected expenses to emergencies, and they can be quite overwhelming. In this essay, we will discuss the various things you can do if you need money now, including selling unwanted items, taking on freelance work, borrowing from family or friends, applying for a personal loan, and using credit cards.
Selling Unwanted Items
One of the quickest ways to generate cash is by selling items that you no longer need or want. You may have items around your home that you can sell, such as electronics, clothing, furniture, or gift cards. Online marketplaces such as eBay, Craigslist, or Facebook Marketplace are great platforms to sell your items. They are easy to use and reach a wide audience, increasing your chances of finding a buyer quickly.
When selling items online, it's essential to provide accurate and detailed descriptions, including photos, to attract potential buyers. It's also important to price your items reasonably, taking into account the condition of the item and the current market value. If you don't have items to sell, consider asking friends and family if they have anything they're willing to part with that you can sell.
Taking on Freelance Work
Freelance work is another option to consider if you need money quickly. There are many opportunities available, such as pet-sitting, dog-walking, or doing odd jobs for people in your community. You can also sign up for delivery services like UberEats, DoorDash, or Postmates to earn money quickly.
To get started with freelance work, you need to have a skill or service that people are willing to pay for. You can start by advertising your services on social media, creating a website or blog, or reaching out to friends and family. It's also important to be realistic about the amount of money you can earn and the time commitment required. Freelance work can be a great way to generate quick cash, but it can also be unpredictable, so it's important to have a backup plan.
Take on More Debt
Borrowing from Family or Friends
Borrowing from family or friends is an option to consider if you need money urgently. However, it's essential to approach this option with caution and transparency. Be honest about your situation and create a plan for repayment to avoid damaging your relationship with your loved ones.
When borrowing from family or friends, it's important to agree on the terms of the loan, including the amount borrowed, the interest rate, and the repayment period. It's also important to treat the loan as a formal agreement and to repay the loan as agreed. This will help to maintain the trust and respect of the borrower and avoid any misunderstandings or conflicts.
Applying for a Personal Loan
If you need a larger sum of money, you may want to consider applying for a personal loan from a bank or credit union. Personal loans can provide you with the funds you need quickly, but it's important to carefully consider the interest rates and fees associated with this type of loan. Be sure to shop around and compare options to find the best loan for your needs.
When applying for a personal loan, it's important to have a good credit score, proof of income, and a stable employment history. Lenders will also look at your debt-to-income ratio to determine your ability to repay the loan. It's important to borrow only what you need and can afford to repay, as failing to repay the loan can damage your credit score and financial reputation.
Using Credit Cards
Credit cards can be a useful tool when you need money immediately. However, it's important to use them wisely and only borrow what you can afford to repay. High-interest rates and fees
Did you know that about 77% of Americans say that they have financial problems? If you need money right now, it could be a challenging experience. Finding the funds you need could become intrusive, distressing, and even desperate moments.
However, there are ways in which you can find the money you need to cover your bills, pay for investments, and invest in yourself. You can find what you're looking for. You just need to find out where to look.
If you are one of the millions of Americans who have found themselves in a similar position, know that you're not alone.
Read on to learn a few things you can do if you need money now.
1. Sell Your Possessions
If you find yourself in need of money, one option is to sell your possessions. It could be anything from clothes and jewelry to furniture and electronics.
You can sell your items in various ways, including online, at a garage sale, or at a consignment shop. While you may not get top dollar for your items, selling them is a quick and easy way to raise some cash.
But if you think it's insufficient to provide for your needs, you need loans. Taking out a loan will help in terms of emergencies. Take time to find helpful resources if you want more information about personal loans.
2. Start a Side Hustle
There are many things you could do if you need money now. One option is to start the best side jobs with good pay, like tutoring or starting a small business.
Another option is to take on odd jobs. This could include pet sitting, yard work, or becoming a personal assistant.
Finally, you could consider working part-time or full-time at a temporary job. This could be in retail, customer service, or administration. Whichever option you choose, make sure you can complete the work and that it is legal.
3. Take on Freelance Work
Another option is to take on freelance work. This can be a great way to make extra money, and you can often set your hours and work from home.
If you have a specific skill or talent, you can leverage that to find freelance work opportunities. There are also many websites and online platforms that connect freelancers with potential clients.
4. Invest in Peer-to-Peer Lending
You could take some types of loans from a bank or another financial institution or invest in peer-to-peer lending. Peer-to-peer lending is a great way to get money if you need it now. You can borrow money from people willing to lend it to you, and you can get a lower interest rate than you would from a bank.
A Little Creativity Can Help You When You Need Money Now
If you need money now, there are a few things you can do. You can start by looking for a part-time job or a side hustle to help you make some extra money. Whatever you do, make sure you are mindful of your spending and do what you can to save up money so you can be prepared for future financial challenges.
Did you find this article helpful? Check out the rest of our website for the latest tips and trends today!