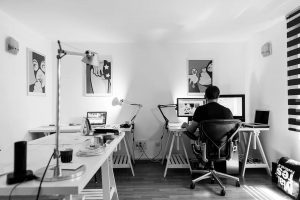 2020 has been the year of change for people all over the world. It has changed the way we do virtually everything, from eating out, travelling, and even shopping! It has also changed the working landscape. Unfortunately, many young adults have lost their jobs due to the ongoing pandemic. If you've been looking for a job now, have you considered working from home? It affords you a lot of flexible schedules. Plus, you can save tons of money since you wouldn't have to spend on commuting and lunch. Here are some work-from-home jobs that you can try your hands on.
Freelance writer
Freelance writers typically create content and write news articles for websites. You can start in a part-time position, but many people have managed to turn it into a full-time career; a writer can either work for several clients or with one client that provides continuous steady work. Additionally, you can also specialize in one area or generalize and write on various topics. There are many websites where you can start work as a freelance writer. Before you get started, ensure that you have a portfolio made up of some of your written works. Your earnings may vary depending on your experience and the type of writing. You can earn between $24,000-$115,000 annually.
Social media manager
Many companies today have social media sites, and as such, often require the services of a social media manager. The best thing about it is that you can do this job remotely! Even better, you can run multiple accounts for different organizations. To work as a social media manager, you need to fully understand how social networking sites operate, write and design copies, and the confidence to engage with audiences. Most of your work will involve posting new content and engaging with followers. 
Affiliate marketer
Affiliate marketing involves selling products or services on behalf of another company. Once a sale has been completed, the affiliate marketer will earn a percentage of the income earned. To become one, you will need to build and maintain an online audience. It's not easy to enter the world of affiliate marketing, as it takes some time to build an audience successfully. However, one advantage of making your following is that you can quickly begin your career as an influencer. If starting an influencer career excites you, many agencies like the Unruly Agency can connect you with brands to work with. Check out unrulyagency.com to get started. Depending on how much work you take on, becoming an affiliate marketer can become a full-time job. You can earn some good money while at home. 
Fortunately, many websites post remote jobs, but you have to be careful of scams. Many people have dreamed of building a career right from home, and due to the pandemic, it has become more of a reality. Despite that, you can make the most out of this situation to earn some more money.